Serves 4 to 6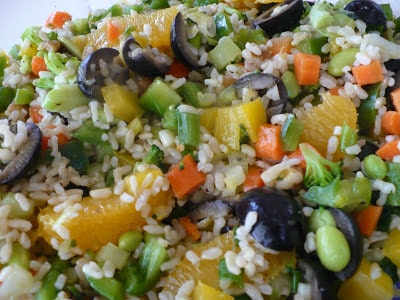 Ingredients
3 c cooked brown rice
2 carrots, peeled and diced
1 stalk celery, diced
1 c broccoli, cut into bite-sized pieces
1 green bell pepper, chopped
1/2 of 1 yellow bell pepper, chopped
1 c shelled edamame, cooked
1/2 c green onions, chopped
1 1/2 c black olives, halved lengthwise
1/4 c walnuts, chopped and toasted (substitute nut of choice)
2 cloves garlic, minced
1 T herb-infused extra virgin olive oil (or use plain olive oil and add some chopped, fresh parsley and basil)
juice of 1 lemon
1 navel orange
pinch of red pepper flakes
salt and pepper to taste
Directions
Cook the broccoli until just tender.
Throw everything but the last seven ingredients into a large bowl, and toss to combine.
In a small bowl, combine the garlic, olive oil, lemon juice, red pepper flakes, salt, and pepper, mixing well.
Add the mixture to the rice and vegetables, and combine. Segment the orange and squeeze the juice from it over the salad.
Give the salad a final toss until well-combined.
Enjoy cold or at room temperature.
You may also like: Japanese Tofu Curry Recipe, Kimchi Miso Soup, and Sea Tangle Noodles