When I cook brown rice, I tend to boil a large batch so that I can easily reach for leftovers in the following days without waiting through another long cooking time. This is particularly convenient when I am both hungry and cannot decide for the life of me what to eat. I've grown up eating rice with practically every dinner entree and have always loved it, sometimes craving it on its own with just its boiled simplicity. But somehow, I managed not to go through that batch of rice I cooked up a few days ago, and I needed to do something with it. My solution? Brown rice salad.
Besides the rice, I spotted a few random vegetables that needed to be used. I had, for example, about a cupful too much of finely chopped, raw broccoli that just missed going into Broccoli Polenta (from the fabulous Veganomicon). Normally, I would have thrown that extra cup into the mix, but I had not yet made that particular recipe–the result of which is very tasty, by the way–and didn't want that extra cup of broccoli to throw it off.
So here I was, with tiny pieces of broccoli, a few stray carrots, a single stalk of celery, a small bunch of green onions, and half a yellow bell pepper, and nearly three cups of cooked brown rice in need of attention. I probably would have thrown those veggies into a pasta or quinoa salad, but the brown rice made the process one step easier. I haven't eaten a salad of any sort in quite some time, and I love rejuvenating leftovers, so salad it was. With a few added non-leftovers–such as fresh citrus, black olives, edamame, and a handful of toasted nuts–this veggie ensemble turned out wonderfully. It works well as a side dish or a light lunch. I definitely see room for substitutions, so like many recipes, this is more of a basic guideline. Use whatever veggies and other mix-ins you like.
How to make Brown Rice Salad
Serves 4 to 6
Ingredients
3 c cooked brown rice
2 carrots, peeled and diced
1 stalk celery, diced
1 c broccoli, cut into bite-sized pieces
1 green bell pepper, chopped
1/2 of 1 yellow bell pepper, chopped
1 c shelled edamame, cooked
1/2 c green onions, chopped
1 1/2 c black olives, halved lengthwise
1/4 c walnuts, chopped and toasted (substitute nut of choice)
2 cloves garlic, minced
1 T herb-infused extra virgin olive oil (or use plain olive oil and add some chopped, fresh parsley and basil)
juice of 1 lemon
1 navel orange
pinch of red pepper flakes
salt and pepper to taste
Directions
Cook the broccoli until just tender.
Throw everything but the last seven ingredients into a large bowl, and toss to combine.
In a small bowl, combine the garlic, olive oil, lemon juice, red pepper flakes, salt, and pepper, mixing well.
Add the mixture to the rice and vegetables, and combine. Segment the orange and squeeze the juice from it over the salad.
Give the salad a final toss until well-combined.
Enjoy cold or at room temperature.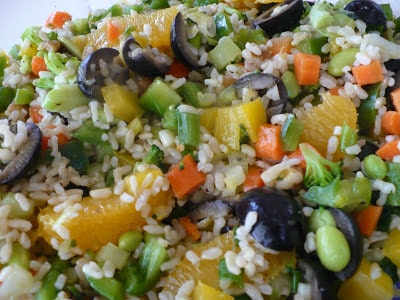 The lemon adds a nice bit of fresh, tangy citrus flavor to the salad, while the fresh orange adds contrasting sweetness. The citrus in the salad paired well with Broiled Lemon Pepper Tempeh, which has its own bite. Add more lemon if you want more of that citrus punch.
Broiled Lemon Pepper Tempeh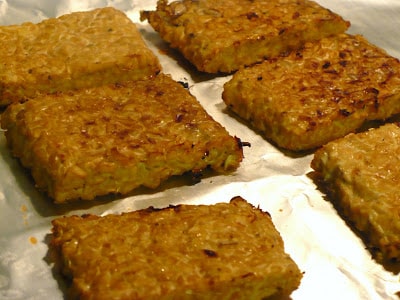 Serves 2
Ingredients
1 8-oz package tempeh
1 tsp salt
juice and zest of 1 lemon, divided
1 T shoyu
1 garlic clove, minced
1/2 tsp ground black pepper
Directions
Fill a pot with just enough water to cover the tempeh. Bring it to a boil, then add the salt and half of the lemon zest.
Cut the tempeh in half, into two wide, thin slabs. Cut each slab in four equal pieces. Place the tempeh in the boiling water and simmer for 10 minutes. Set aside to cool slightly, just enough to handle without burning yourself.
Set the broiler to high.
Line a baking sheet with foil and spray it lightly with oil (alternatively, use nonstick foil to avoid the need to oil the sheet).
In a small bowl, combine the remaining lemon zest, lemon juice, shoyu, garlic, and ground pepper, mixing well.
Dip both sides of each piece of tempeh into the lemon-shoyu mixture, then place the tempeh on the prepared baking sheet.
Place the sheet a few inches under the broiler for 5 minutes, then flip the tempeh and broil for another 5 minutes, until the pieces are golden brown.
Enjoy warm.
You may also like: Japanese Tofu Curry Recipe, Kimchi Miso Soup, and Sea Tangle Noodles
Casey
Casey is just a regular gal who loves to cook…ESPECIALLY for family and friends.. She loves mixing different tastes together with some amazing results.