Given that today is Halloween, it's not much of a surprise that I also had pumpkins on the brain when contemplating my own melonpan project.
I thought it would be cute to model melonpan as my favorite pumpkin, kabocha, with its orange interior and green shell. Mind you, this version isn't remotely authentic; true melonpan (besides not being vegan) is named for its melon-like appearance, and is not actually flavored like melon. My kabocha bread doesn't taste very much like kabocha, but the roll is actually made with pumpkin, which gives the interior its orange hue. The cookie topping is made with a matcha-tinted and -flavored dough. I also filled a few of the buns with shiro an (sweet white bean paste), to allude to a pumpkin seed center…or maybe just an excuse to use a filling. It occurred to me afterward that mashed, sweetened kabocha would be a better fit for the pumpkin theme. In any case, the kabocha bread turned out well. Soft, fluffy bread with a sweet, crunchy cookie shell is a sweet way to celebrate Halloween or an autumn day.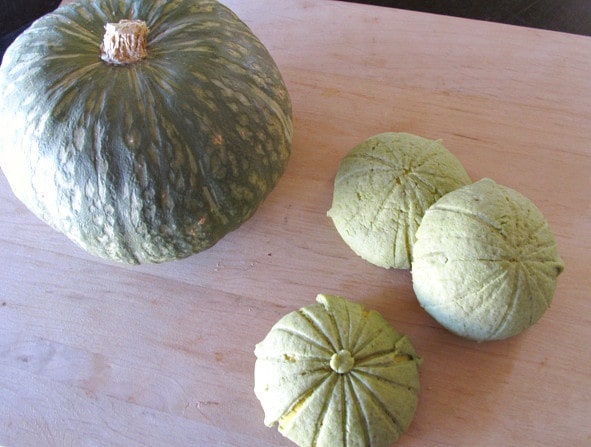 Kabocha bread
Yields 12 rolls
Nut- and soy-free options (see individual recipes)
Ingredients
Bread: 1 batch of Sweet Potato Roll dough, substituting mashed kabocha (or other pumpkin) for sweet potato
Cookie topping: 1/2 batch of Matcha Coin dough (recipe follows)
Filling (optional): 1 c shiro an or mashed, cooked, sweetened kabocha
Directions
For the bread:
Prepare one batch of Sweet Potato Rolls, substituting kabocha or other pumpkin for the sweet potato. While it rises, prepare the dough for the cookie topping.
For the cookie topping:
Prepare one batch of Matcha Coin dough and chill it for 30 minutes. You'll need only half of a batch, so either bake the remaining dough as cookies or save it for later. Divide the dough to be used for the kabocha-pan into 12 equal pieces. On a lightly-floured surface, roll out each piece into a thin disc. Lightly score the discs in a starburst pattern, making several lines that intersect at the center. Lay the discs on a baking sheet in a single layer.
To assemble the kabocha-pan:
After the bread dough rises, gently deflate it and divide it into 12 equal pieces.
*To make unfilled rolls, roll and pinch the dough into balls, and place them on parchment-lined baking sheets, a few inches apart (six to a sheet).
*To make filled rolls, before rolling the dough, roll heaping tablespoon-sized amounts of shiro an or mashed kabocha into balls and set them aside. Flatten the dough pieces into discs, place filling at the center, and pull the dough around the filling. Pinch the dough to seal it around the filling, and place the balls, seam side down, on the parchment-lined baking sheets.
Lay one prepared cookie disc over one bread dough ball, gently smoothing down any overlapping areas of cookie dough. It's fine if the cookie layer is bumpy and doesn't cover the bread completely. Repeat for the remaining rolls. Allow the dough to rest for 15 to 20 minutes as you preheat the oven to 350°F/180C.
Bake the bread for 18 to 20 minutes. The cookie topping should be firm and the bottoms of the rolls should be golden-brown. Carefully remove the rolls to a wire rack to cool.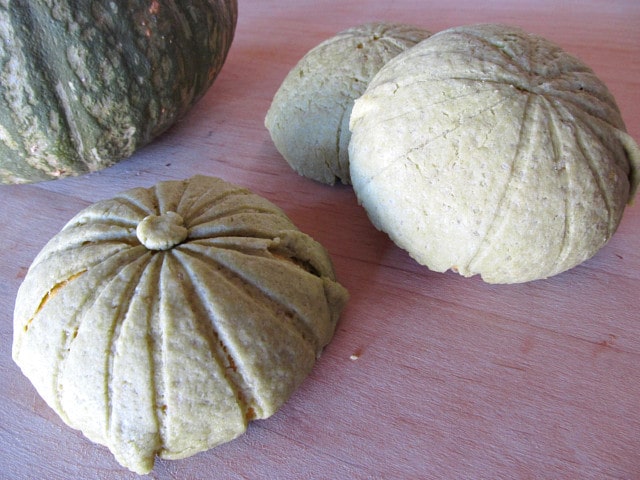 You may also like: Cheesy Potato Pancakes, Brown Rice Salad, and Squash Gnocchi
Casey
Casey is just a regular gal who loves to cook…ESPECIALLY for family and friends.. She loves mixing different tastes together with some amazing results.