It can be difficult to choose which outdoor electric griddle would be best for you with so many models and brands to choose from. That being said, if you are looking for a buyer's guide or the best outdoor electric griddles, then this article will be of great help.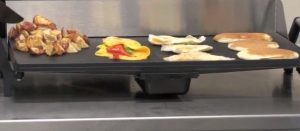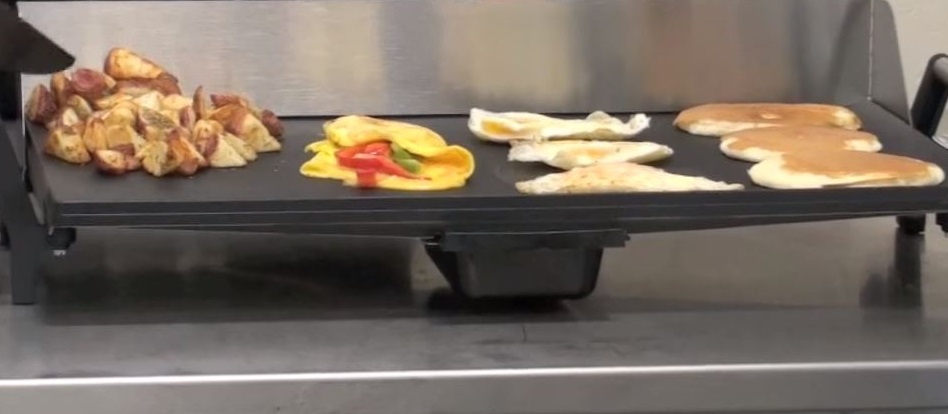 Based on checking the best outdoor electric griddle, we have found that the best that are available in the market are the following:
Broil King PCG-10 Professional Portable Nonstick Griddle
MegaChef Grill and Griddle with Removable Glass Lid
Hamilton Beach 3-in-1 Electric Indoor Grill + Griddle (38546)
Hamilton Beach 3-in-1 Indoor Grill and Electric Griddle Combo and Bacon Cooker (25600)
Best Outdoor Electric Griddle Reviews
Broil King PCG-10 Professional Portable Nonstick Griddle
Broil King PCG-10 griddle is one of the largest electric griddles in the market with its measure of 21 by 21 inches. This allows you to be able to prepare large food quantities simultaneously that is suitable for large family or professional use. In fact, it can help you cook for 8 people at once.
However, keep in mind that large models require more room in the kitchen countertop and cabinet for its storage. Because of its heavy weight and large griddle plate size, it is important that you check your kitchen space to see if it's going to fit properly.
This unit comes with a removable stainless steel backsplash that helps protect you from any splattering pieces from the food. So you will not have to worry about splashes on the wall after the cooking that minimizes the mess you have to clean after the meal preparation.
Because this model is designed primarily for professional use, its surface is much thicker than other electric counterparts. The thick cooking surface takes longer time to get fully heated. However, this makes it very efficient at heat distribution throughout the cooking area with barely any temperature fluctuations.
While using this unit, you can notice that its left side heats up more than the right. This probably is caused by the curving heating element on the unit's left side. But once the griddle reaches its set temperature, you will have a smooth cooking session. This feature of the unit does present an opportunity for you to be creative in how you distribute your food on its cooking surface.
The inclined surface makes Broil King PCG-10 griddle far more efficient at draining grease from fatty foods.The drained grease gets collected in a removable grease tray. This makes the food less greasy and healthier while easing up cleaning. Besides, this griddle has movable rear legs that can tilt the cooking surface to control any grease run-off from the plate. It also comes with a non-stick surface that will not embed itself to the grease, making cleaning-up a breeze.
Thanks to its cool-touch handles that don't heat up so there are no burns in case you try to move the griddle in use. The handles are made of stainless steel which is a durable material that doesn't wear out.
This griddle reaches a higher temperature than most usual models can achieve.The thermostat can control the heat up to 425ºF and maintains the set temperature throughout. This model is considered a semi-professional but you can buy it for home-use. Its nonstick ceramic coating is PTFE & PTOA chemical free.
This griddle is fully submersible after the heat control is separated. Also, it is dishwasher safe but the problem is finding a dishwasher that can accommodate the size of the griddle so it is not the most advisable way of cleaning it.
Overall, Broil King PCG-10 griddle is a heavy-duty cast aluminum griddle that can reach high temperatures than most other electric griddles. With this unit, Pancakes are just too perfect. The removable grease tray, tilt feature and the nonstick surface help speed up the cleaning process. In addition, it comes with a two-year warranty. It's a bit pricey than others but worth it since it is expected to last for years.
MegaChef Dual Surface Heavy Gauge Aluminum Reversible Indoor Grill and Griddle with Removable Glass Lid
MegaChef Dual Surface Reversible Grill and Griddle is certainly worth a mention in my round-up of the best outdoor electric griddles. Similarly to other models you have seen, it is a griddle with a bit more versatility to it. You have one side with the griddle (flat surface) and the other which acts as a grill (ribbed surface). You can also flip the panel even when the griddle/grill is turned on. That way you can make eggs, pancakes, flip the grill cooking surface over and use it as a grill for meats and veggies.
The MegaChef Dual Surface Reversible Grill and Griddle comes with a removable glass lid that helps to keep particles of fat and grease from splattering. The glass lid will allow you to monitor the cooking process without lifting the lid to seal in flavors and nutrients.
Megachef has made this outdoor electric griddle that would look great in any apartment. Of course, it is more than just a nice looking unit. It is lightweight (under 6 pounds) and easy to take so you can bring it with you to your next getaway or vacation.
Notwithstanding its portable design, it still has a large cooking surface. It features a 15 inches x 11 inches cooking area on both sides, meaning you will get both a 15 inch grill and a 15 inch griddle all in one. That allows you to prepare a large amount of food at a time. Another feature of the model is that it has an adjustable heat control to ensure your breakfast meals are cooked to perfection.
When it comes to performance, users said that it distributes heat quite evenly. The griddle/grill also comes with convenient features such as it can be locked in the open position for safety. This model is very easy to clean up after using due to the nonstick surface, the removable lid and the removable temperature control. However, it can take quite some time to clean all parts of the unit.
Overall, this electric griddle with lid is a high quality model that will add great flavor without adding much smoke. The lightweight and portable design makes it a great option for shared apartments when you want to cook out in the sunshine. Even better, it's affordable, coming in at lower than other models on our list of the best outdoor electric griddles.
Hamilton Beach 3-in-1 Electric Indoor Grill + Griddle (38546)
This is the third on our list of candidates for the best outdoor electric griddle. If you do not need to cook large meals, then this Hamilton Beach 38546 is one to consider. This model is versatile, allowing users to cook a range of meals from pancakes, burger to steaks.
The Hamilton Beach 38546 is a 3-in 1 grill/griddle that provides 3 cooking options: Full griddle, full grill, half griddle/half griddle that gives you more versatility to your cooking with a choice of how you use the unit. You can use it as a griddle with on both sides, as a grill with on both sides or as a griddle and grill at the same time if you are cooking for two but that is not a good idea if you are cooking for mass.
Even better, with independent temperature control (maximum of 425 degrees F) you can cook two different meals at two different temperatures. You can cook an omelet on one side and a hamburger on the other. However, some heat will transfer from one side to the other even if only one is in use.
This griddle/grill does not fold up. However, measuring 12.51" x 23", it would not take up too much room on your kitchen counter. The total cooking area is about 180 square inches, but the two griddle/grill plates are separated in the middle so the actual cooking surface is rather small, 90 inches each. This size is great for two or three people. For a family of 4, you may consider a bigger griddle.
This multifunctional griddle/grill also comes with a central channel for grease. This channel connects to a drip tray placed underneath to catch grease and fat. This allows cleaning this unit is easy – just make sure you're not too hard on it. The cooking plates and the drip tray are removable and dishwasher safe for easy cleaning. Cleaning with hot water and soap is a little better for the plates.
The Hamilton Beach 38546 has been advertised to be equipped with nonstick cooking surface but a cooking spray is recommended. The cooking area is PFOA-free, meaning it was made without Perfluorooctanoic acid, which is a potentially dangerous chemical.
On the downside, this unit takes a bit to reach desired temperature. Also, it does not come with an on/off switch that you have to plug/unplug it to turn it on/off. Although the unit has two temperature control knobs, both compartments remain on even if you only use one compartment.
Overall, this griddle/grill is a nice looking unit which distributes heat evenly. It is compact, versatile and easy to clean up after it has been used. No product is perfect and this multi-purpose appliance has its faults. However, if you are on a tight budget and have a need for an outdoor multifunctional griddle/grill, then this outdoor electric griddle will probably be alright for you. After all, not everyone has a need for cooking large meals nor a lot of space for bulky models.
Hamilton Beach 3-in-1 Indoor Grill and Electric Griddle Combo and Bacon Cooker (25600)
This model from Hamilton Beach is also a multifunctional griddle/grill. However, with this new version, it can be used as a bacon cooker. Even better, The unit has the ability to drain the grease away from the bacon easily without splatter. If you have any bacon lovers in your home, this model would be worth buying.
This electric griddle comes with a cooking surface of 100 square inches that makes it ideal for smaller families and apartments. If you have a small cabinet, this unit can be a good choice as it is easy to store. Although the unit has a compact size, it does not compromise the ability to serve more meals as it comes with a convenient feature of opening it flat. This means you can get a cooking area which is 200 square inches so you can griddle on one side and grill on the other.
When it comes to the aesthetics of outdoor electric griddles, this model has bigger grates which makes it look a bit less authentic. This unit is easier to cook with, the food tends to come out more easily and have less spots in your foods due to its square design. The cooking plates and the underneath drip tray are removable and dishwasher safe, making cleanup a cinch.
When cooking, the most challenge is how to control temperature while making different flavors. The Hamilton Beach 3-in-1 25600 is easy to control temperature to your recipe needs. It goes up to 400 degrees F. Besides, the indicator lights help you to know the status of the griddle whether it is hot or not.
Overall, the Hamilton Beach 3-in-1 25600 is designed for those who want flexibility in cooking. As a multifunctional griddle/grill, it gives you the ability to make various meals with easy cleaning. The compact size makes it an ideal choice to take it everywhere you wan to be it camping, picnics, RVs and more.
Charles Oakley Hot Shot Smokeless Grill with Griddle Plate
It's awesome when you get something in 2 in 1 package. With this unit, You can either use the griddle or grill plate as per your needs as it comes with nonstick grill grates and a griddle plate.
The griddle plate allows you to make a great variety of delicious meals such as omelette, rotis, burgers, steaks and delicious pancakes. If you are looking for a good sear or a panini and sandwich press, the griddle plate is the way to go. When it comes to the grill plate, the users usually make crispy fried vegetables or bacon.
The Hot Shot's has designed this grill/griddle as measuring around 13.75" x 8" which is nearly 110 square inches. The compact size makes it easy for moving around the house. Don't just think kitchen – camping and picnics are possibly visible options as well! The multifunctional can grill items that are a bit longer in length – so it is perfectly suitable for something like a big rack of ribs.
What sets this model apart from most outdoor electric griddles is the lack of smoke from the grill. There is no smoke will be released from into the air when you are preparing your sausages, burges or different kinds of fish. With an advanced airflow technology, the unit captures the smoke and straps it inside the body of the griddle.There's also a smoke-capture fan built into this unit to ensure you can cook without worrying about smoke in the house.
The unit comes with a hinged glass lid that you can see the food during the cooking process and take any required steps. The cover also helps trap the hot air and make the food as juicy as possible. Additionally, you don't need to worry about the mess as it has a drip tray that catches any excess grease, fat. This multi-purpose unit also features removable parts to make cleaning up a breeze.
With the LED smart temperature control, the model provides you with six settings in a simple and straightforward way. That way you can regulate the heat by pressing the up/down arrows Furthermore, the model heats up super fast and can heat up to 450°F.
Overall, this electric griddle works exactly what you need from a griddle as well as a grill. Since the package comes with recipe books with a lot of recipes that you will have a hard time deciding which one to go with for dinner. Well, the good thing is that this model will allow you to cook all delicious meals in the book. You can use it as indoor and outdoor, where you need. It is ideal for BBQ and any grill things as well as griddle recipes.