Have you tried sea tangle noodles yet? Seeing packages of translucent bundles of what looked like rice noodles piqued my curiosity during a recent trip to a Korean market near my friend's house. These incredibly low-calorie strands are composed of kelp, so they are much more nutrient-dense than wheat or rice pasta. Despite being sea vegetable-based, the noodles have a neutral flavor, making them ideal for pairing with any number of sauces or dressings. Left raw, the noodles are fairly crunchy; boiling them briefly softens them a bit, leaving them with a slight bite. I simply rinsed them under warm water to loosen the bundle, then served them with a warm sauce.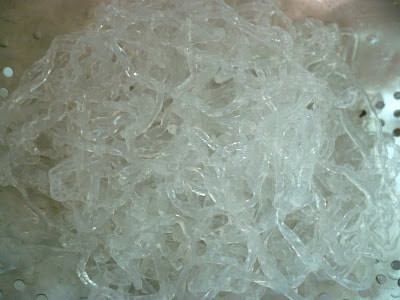 Because the sea tangle noodles were purchased rather spontaneously–a bargain at 99 cents for a 10-serving bag–I hadn't yet devised a plan for how I would prepare them. My generous hosts for the week (my friend and his girlfriend) are always willing to share whatever contents of their kitchen I can and want to eat, so before heading back out to gather ingredients to dress the noodles, I rummaged through the refrigerator and pantry of my loved ones' home for sauce components. Fortunately, a combination of a few on-hand ingredients produced a tasty dressing, negating any last-minute shopping excursions. The following amounts are approximated, based upon the haphazard process by which I threw together this quick and easy dish.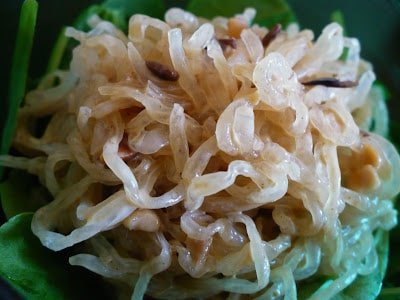 How to cook Nutty Sea Tangle Noodles
Yields one serving
Ingredients
Handful of sea tangle (kelp) noodles, rinsed with warm water and drained
1 T peanut butter, extra crunchy (creamy is fine)
1/2 tsp black bean garlic sauce
1 T mirin
Generous squeeze sriracha, or to taste
3 T to 1/4 c almond milk
Handful of baby spinach, rinsed and spun dry
Directions
In a small, microwaveable bowl or saucepan, combine the peanut butter, black bean garlic sauce, mirin, and sriracha, stirring until well-combined.
Stir in almond milk a tablespoon at a time, until the mixture is thick and comparable in consistency to a cream sauce.
Microwave the sauce on high for 45 seconds or heat in a saucepan over until it is just warmed through.
Stir the sauce once more, toss with the noodles, and serve over baby spinach.
Enjoy!
You may also like: Japanese Tofu Curry Recipe, Kimchi Miso Soup, and Brown Rice Salad
Emma
Emma is an avid cook, recent college graduate, a lifelong resident of California, and is also our most frequently contributing writer. She currently resides in her hometown along the central coast, where she cooks, eats, and writes about a myriad of vegan treats.