Yields one serving
Ingredients
Handful of sea tangle (kelp) noodles, rinsed with warm water and drained
1 T peanut butter, extra crunchy (creamy is fine)
1/2 tsp black bean garlic sauce
1 T mirin
Generous squeeze sriracha, or to taste
3 T to 1/4 c almond milk
Handful of baby spinach, rinsed and spun dry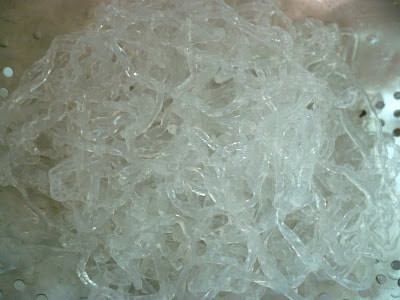 Directions
In a small, microwaveable bowl or saucepan, combine the peanut butter, black bean garlic sauce, mirin, and sriracha, stirring until well-combined.
Stir in almond milk a tablespoon at a time, until the mixture is thick and comparable in consistency to a cream sauce.
Microwave the sauce on high for 45 seconds or heat in a saucepan over until it is just warmed through.
Stir the sauce once more, toss with the noodles, and serve over baby spinach.
Enjoy!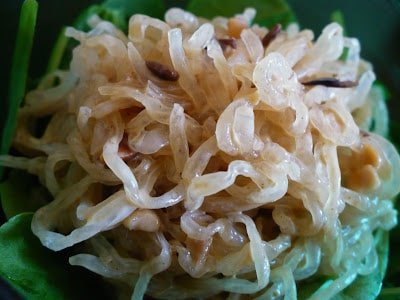 You may also like: Japanese Tofu Curry Recipe, Kimchi Miso Soup, and Brown Rice Salad