Au jus comes in handy when it comes to enjoying a slice of meat. It's a perfect way to complete your meat dish as it adds extra flavor and moisture to the dish to help you enjoy it more.
However, Au Jus usually takes too long to cook, and most people don't have much time for the lengthy process. Some au jus ingredients are also hard to find in local stores.
Fortunately, there are various substitutes you can use instead of au jus to serve your family some delicious beef dishes.
When prepared well, au jus substitute delivers similar taste and flavors you would get with the savory sauce obtained from slow roasting.
This article will guide you on how to make the 3 best au jus substitutes at home. But first, let's learn what au jus really is and how it's used.
What is Au Jus?
Au jus is a French culinary word that simply means 'with juice.' However, this term mainly refers to a meat dish served with the sauce obtained from the cooking meat.
Once the meat is cooked, a chef usually pours off the meat juice and skims off extra fat, then serves the meat with this light seasoned jus.
Most Americans tend to use soy or Worcestershire sauce to make the au jus with stock. They also add flour or corn starch powder to thicken the sauce.
The sauce is then served with meat as au jus, though it's not a natural result of the meat cooking process.
You can find au jus in most stores in the US. This powder is usually made of onion and garlic powder, salt, and sugar.
3 Best Au Jus Substitutes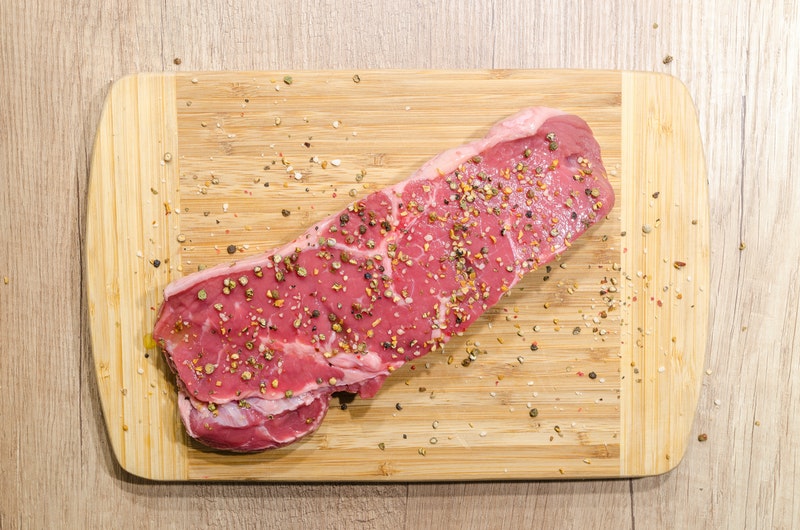 Beef Stock Powder Sauce
If you don't have the au jus mix, you can use the beef stock powder to make a perfect sauce to serve with meat.
To make the beef stock powder sauce, you'll need these ingredients:
4 tablespoons beef stock powder
4 tablespoons onion powder
2 and a half tablespoons dried parsley
3 tablespoons corn starch
¼ tablespoons black pepper
¼ tablespoons garlic powder
Once you gather the ingredients, follow these steps to make the sauce:
Mix all the ingredients thoroughly in a small bowl to achieve a fine powder.
Put 5 teaspoons of the dry mixture into a saucepan and add about two cups of water.
Use an airtight container to store the remaining mixture at room temperature.
Heat the mixture for 10 to 15 minutes while stirring until the solution becomes a little bit thick.
Serve the sauce with your cooked meat, and enjoy!
Bouillon Cubes Sauce
The second substitute uses bouillon cubes instead of beef stock, but the other ingredients are the same.
If you want to make the bouillon cubes sauce, you'll need to blend the mixture for about 2 minutes to ensure that the cubes turn into fine powder.
It will also help if you crumble the cubes first before unwrapping them from the foil for easy blending.
Once you mix the ingredients and achieve a fine powder, put about 4 teaspoons of the powder into a saucepan and add 2 cups of water.
Then heat the mixture while stirring to make it thicken and boil for about 10 to 15 minutes.
This au jus substitute works great when used on dishes like the Mississippi Roast, grilled steak, or sausages.
Beef Broth
This is a liquid alternative, and it's delicious when used on various meat dishes like grilled steak, mash, or any other roasts.
Beef broth is easy to make as you just need to add some red wine and seasoning to your freshly cooked beefy juices.
To make the beef broth with savory flavors like those of au jus, you can follow these steps:
Brown some meaty beef bones in the oven and put them in a pressure cooker.
Season the caramelized bones with salt and pepper.
Add chopped onion, carrot, and one celery.
Add two sliced garlic cloves and a teaspoon of dried herbs.
Cover the mixture with about 2 cups of water and let it pressure cook for an hour.
Let the mixture cool, then strain the liquid off and discard the other ingredients.
Serve some broth on your cooked beef and enjoy the delicious meal.
Divide the remaining liquid into several portions and freeze.
FAQs
Do You Need Au Jus Substitutes?
Yes, you need au jus substitute, especially if you don't have time to roast your meat slowly to get the au jus.
Au jus alternatives like the ones discussed above make the meat more delicious and enjoyable.
Making your own au jus mixes at home is a healthier option as you won't use any additives or colorings. It also allows you to use natural herbs and spices.
How Do You Thicken Au Jus?
You can thicken your au jus by adding a small amount of flour. If you don't want gluten in your diet, you can substitute corn starch or tapioca starch for wheat flour.
Once you stir in the flour or corn starch, let the au jus cook for a few minutes to avoid the raw taste.
What is the Difference Between Beef Broth and Au Jus?
While some people think that au jus is usually beef broth, this isn't true. Au jus is a savory sauce collected from the cooking meat and then served with the cooked beef.
On the other hand, beef broth is usually added to the cooking meat, and it's not always served with that meat.
Can You Substitute Brown Gravy for Au Jus mix? 
Yes, you can use brown gravy if you don't have the au jus mix at hand and want a sauce that tastes close to the beef dripping.
However, the flavor will vary slightly as the two ingredients use a different amount of sodium.
Conclusion
Do you love using au jus in your meat recipes but don't want to go through the long process of making it? Don't worry as you can use the above substitutes.
With these au jus alternatives, you'll feel confident serving some delicious beef meals like the Mississippi roast and Sunday beef roast for your family.
Moreover, you won't have to worry about consuming the artificial colorings, preservatives, and flavorings used in most au jus mixes sold in the stores.
You may also like: Apple Cider Substitute, Substitute for Mace