If you want to take your culinary skills to the next level, it's time to invest in a double boiler! You'll make your friends and family jealous with your beautifully dipped chocolate strawberries, perfectly cooked eggs benedict, professional custards, and melty cheese to dip on game day.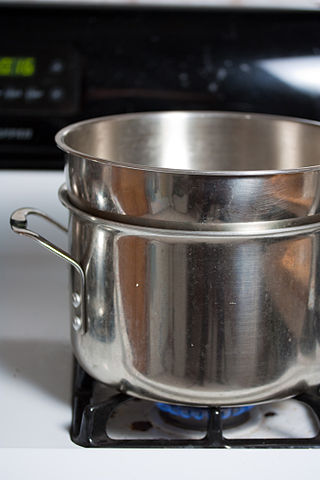 So how do you find the best double boilers so you can become the ultimate chef? We've found the seven best double boilers that will make your cooking so much easier!
Best Double Boilers Reviewed
Norpro Universal Stainless Steel Double Boiler
This Norpro double boiler is a 3-quart stainless steel insert that can fit a wide variety of pans. The stainless steel material looks beautiful and is built to last. The long handle will stay cool while cooking and is made with Grip-EZ technology for a comfortable, non-slip grip.
This double boiler insert has spouts on both sides to allow for right or left-handed use. The spouts are designed to be drip-free for easy pouring. No need to worry about spills or messes!
The 3-quart size allows you to cook recipes with large quantities. The Norpro has a stable, flat bottom that will sit evenly in most pots to avoid tipping or spillover.
Pros:
3-quart size for larger recipe quantities
Durable yet attractive stainless steel design
Easy, no-drip spout
Cons:
Although this insert can fit a wide variety of pots, smaller pots may have an awkward fit
Comes with insert only
Cook N Home Double Boiler Steamer
The Cook N Home Double Boiler includes a 4-quart pot with a 2-quart boiler insert. These pots are created with mirror-polished stainless steel that creates a sleek appearance and sturdy build. The stainless steel is easy to clean and will stay looking nice for long.
The aluminum-layered bottom will ensure your pot is evenly heated to avoid hot spots and create balanced cooking. The aluminum bottom means this pot can be used on all stove-types, including induction.
The 4-quart pot also includes a steamer insert for a wide variety of cooking options. The glass lid allows you to monitor your food as it cooks so you won't have to worry about burning or overcooking. The steamer and boiler insert can fit other pots between 1-4 quarts.
Pros:
Purchase includes three kitchen tools: Pot, boiler insert, and steamer insert
Stainless steel is easy to clean and long-lasting
The set can be used on all stove types
Cons:
The handles are awkward and can heat up while cooking
ExcelSteel 3 Piece Boiler
The ExcelSteel 3 Piece Boiler set includes a 2.5-quart pot, boiler insert, and glass lid and is made with beautifully polished stainless steel. Quality material will ensure reliability and easy cleanup. The best part? This set is dishwasher safe!
Long handles stay cool to the touch and are made with loops for hanging and easy storage. Some glass lids will easily fog up, defeating the purpose of a see-through lid. This set comes with a vented glass lid to allow steam to escape, giving you the perfect view of your food while it cooks.
The boiler insert can also be used as a regular pot and is compatible with induction stovetops. This versatility makes the ExcelSteel boiler a great addition to any kitchen.
Pros:
Dishwasher safe for an effortless cleanup
Handles stay cool for safe handling
The vented glass lid allows you to monitor food
Cons:
The bottom is not layered with aluminum or copper and may rust over time if not properly cared for
Farberware Classic Stainless Series 2-Quart Covered Double Boiler
The Farberware Double Boiler includes a 2-quart pot with boiler insert and lid. The self-basting lid locks in heat and flavor for tastier recipes. Comfortable handles create an easy grip and stay cool to the touch.
The boiler insert doubles as a regular pot, and the set is oven-safe up to 350 degrees F, allowing for more versatility and fewer dishes needed as you cook. The aluminum base means this pot is induction-ready and will heat evenly to avoid hot spots.
Farberware has been one of the top names in kitchenware since 1900. They've created generations of quality products and continue to find ways to incorporate new technology. Farberware includes a lifetime warranty for this set to ensure your cookware is always top-notch.
Pros:
Oven safe up to 350 F
Lifetime warranty included
The trusted company ensures superior cookware
Cons:
The grooved interior can make clean up more difficult
T-Fal Specialty Stainless Steel Double Boiler
The T-Fal Double Boiler is one of the best double boilers which is made with non-stick material on both the interior and exterior of the pot. This allows for easy cooking and quick clean up. The set is also dishwasher safe, which adds to its simple clean up.
The aluminum base heats evenly and cooks food to perfection, and the phenolic handle provides a safe, easy-grip that won't heat up as the pot heats. The T-Fal set includes a lifetime limited warranty.
Pros:
Nonstick material
Dishwasher safe
Lifetime limited warranty
Cons:
The boiler insert's lightweight material can easily burn food and is not recommended for use as a regular pot
All-Clad Stainless Steel Double Boiler
The All-Clad Double boiler includes a 2-quart pot with a 1.5-quart porcelain insert. The 3-ply stainless steel is made with an aluminum core that heats easily and is warp-resistant. High-quality materials mean you won't have to worry about your pots reacting with your food.
These pots are stick resistant to ensure easy cleanup. The set is induction-compatible and oven and broiler safe up to 600 degrees F. The limited lifetime warranty will ensure you always have the best tools for your kitchen.
All-Clad is one of the best when it comes to kitchenware. You can be confident in their premium materials, but quality materials come at a higher price.
Pros:
Stainless steel and aluminum core are excellent quality
Oven and broiler safe up to 600 F
Stick-resistant for easy cleaning
Cons:
This set is significantly higher in price
Winware 8 Quart Double Boiler
The Winware 8-quart Boiler is a great choice if you're cooking in large quantities. The ability to cook in larger quantities means less cooking throughout the week. The durable, heavy-weight material will last a lifetime, while the stainless steel keeps a classic look.
This pot is extremely sturdy and made with professional chefs in mind. The stainless steel lid seals tightly to keep heat and flavor in.
Winware is dedicated to making the best cookware for restaurants and chefs. Bring that professional quality to your own kitchen with this well-made set.
Pros:
Great for recipes requiring large quantities
Strong, long-lasting material
Restaurant-quality construction
Cons:
Large size makes it difficult to store
Summary
Any of these best double boilers will make a great addition to your kitchen. Of course, you can melt chocolate and cheese and make these recipes in a regular pan, but a double boiler will help you cook these foods to perfection! Everyone will be talking about your fondue station at your next party.