Everybody enjoys weekends and holidays with friends and family. If you love barbeque, you will need to have the best contact grills. They are ideal for home use and when on the move. With a contact grill, it is easy to prepare favorite foods, such as sandwiches, veggies, meat, and more.
You do not have to wait for the grilling season. With the contact grill, you can enjoy both indoor and outdoor barbecues. Also, it makes it perfect for cooking meat as it retains natural flavor, taste, and juices.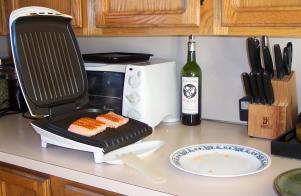 There are different makes and models of contact grills, how do you choose the right one? Fortunately, we have done the hard work for you and found the best contact grills you can buy.
4 Best Contact Grills Reviewed
Hamilton Beach Contact Grill
You may think that eggs and steak are only reserved for breakfast, but with this contact grill, you have the flexibility to make an amazing breakfast at home. Ideally, this is a multi-grill that provides grill surface, bacon cooker, and flat griddle space.
Other than breakfast, you can use it to make juicy burgers, chicken, or fish for dinner. Ensure you keep it closed to lock in flavor when cooking bacon. When you want a large cooking surface, you can use the griddle option or open it flat.
This contact grill provides you with 200 square inches of nonstick cooking surface. That means you have adequate room to grill or cook multiple items at the same time. Adjustable temperature control allows you to cook at high or low heat settings.
Key Features
3 in 1 Cooking Versatility
You can use this contact grill as your indoor BBQ grill, bacon cooker, grill/griddle. With this unit, you can cook chicken, steak, vegetables, burgers, and fish. Also, you can make pancakes, bacon, and eggs for breakfast.
No Mess Cooking
You can make your delicious and crispy bacons without messy splatters. Just flip the kickstand to create an elevation.
Large Cooking Surface
Ideally, this unit is designed to serve 6 or more people. By opening it flat, you can have a double cooking surface where you can griddle on one side and grill on another.
Adjustable Temperature Control
With this feature, you can cook at high or low heat settings. This contact grill can provide temperature up to 400 degrees.
Pros
Super easy to use
Easy to clean (dishwasher safe)
Easy temperature control
Large cooking surface
Cons
George Foreman GRP360R Contact Grill
You probably knew George Foreman as a great boxer, so is this contact grill. This grill allows you to cook quick and tasty dishes for the entire family. It provides a 4-serving area that is perfect for chicken and burgers. You can also make a small meal with grilled vegetables.
The GRP360R Grill provides an 80-inch square cooking surface that is perfect for making two whole meals. Thus, you can enjoy your meal with your partner, and you do not have to worry someone drops by. The grill provides a lot of cooking space, should you need to cook more.
The good thing about this grill is that it reduces about 40% fat from the food and does not require cooking oil. You will find this grill ten times more durable, thanks to the scratch-resistant and nonstick coating. The attached floating hinge can easily be adjusted to cook a wide range of food sizes.
Key Features
Advanced Coating
Its coating is made to be stronger and durable and eliminates the need for using oil and butter.
Removable Plates
The fact that its plates are removable, it means easy cleanup is possible. After use, you only need to place them in the dishwasher.
Ready Indicator Light
The indicator lights on top of your grill let you know when it is ready to cook and when it is plugged in.
Pros
Faster cooking
Metallic finish blends with any décor
Plenty of cooking space
Simple cleaning requirements
Cons
Not suitable for dishwasher use
Cuisinart GR-150P Griddler Deluxe
The Cuisinart GR-150P Griddler Deluxe is designed to take grilling to another level. It provides up to six enticing cooking options. You will find this grill ideal for making eggs and pancakes for breakfast, sandwiches, and panini for lunch, and fajitas or burgers for dinner.
The grill provides an extra-large grill surface that is perfect for making family meals and entertaining a crowd. Its SearBlast feature locks the flavor of your steaks in.
The fact that it is made of stainless steel, it is aesthetically pleasing. Ideally, any indoor grill should look great. Stainless steel is not only meant to offer good looks, but also made to last.
If you need a large cooking surface, then you are lucky as the Cuisinart GR-150P Griddler Deluxe provides a lot of it. For instance, it provides an adequate surface to make up to 12 pancakes at the same time. In this way, it saves you a lot of time. If you like hosting parties in your apartment, then this is the perfect contact grill.
Key Features
Temperature Control
You have the freedom to set varying temperatures for each grill. That means you can cook different foods at the same time.
Integrated Drip
The unit has a drip tray, which is integrated at the back. You will find this feature quite different from the traditional Griddler model.
Pros
Multiple cooking options
Adjustable top cover
Easy to clean (dishwasher safe)
Large cooking surface
Smart fat reducer
Cons
Needs large counter space
Ninja Foodi Grill
This contact grill can sizzle, sear, and air fry crisps. Ideally, you get the flavors and speed of an outdoor grill plus versatility of an air dryer all in a single appliance.
With the patented cyclonic grilling technology, this unit circulates air around the food for excellent surround searing. Vegetables, meats, and even fruits come out with juicy perfection. For instance, you can use it to make beef jerky snacks and dried fruit.
One thing you will like about Ninja Foodi Grill is that the amount of smoke it produces is minimal. Thus, you can use it inside a small apartment or kitchen. Although this is a multi-purpose appliance, its main job to grill meats. In fact, it grills steaks to perfection and drains away the fat.
Key Features
500 Degree Grate
The grill grate is ideal if you need char-grilled flavors and marks on your fish and meats.
Cyclonic Air Technology
Although this feature will not do your laundry, it does more to make your foods tasty. Ideally, the feature moves air around the food to ensure there is surround searing that provides delicious charring and browning without burning.
Digital Control Panel
You do not have to be a computer expert to use this feature. The panel makes it easy to preset cooking functions, adjust temperature and time. In this way, you can grill with confidence.
Pros
Minimal smoke
Easy to clean
Well-built
Dishwasher safe components
Cons