A kitchen exhaust fan is an essential feature in any cooking space whether a restaurant, catering kitchen, bakery or a home kitchen. While the equipment performs the same function-remove dirty air from a building commercial exhaust fans are different from small home models.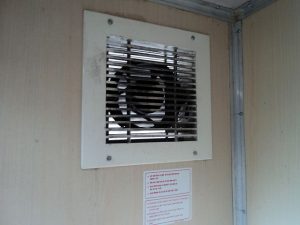 As such, when buying an exhaust fan you need to determine if you are buying for a home or a commercial kitchen. For this guide we look at factors to consider when buying both types of kitchen exhaust fans (commercial and home models) and some of the best kitchen exhaust fans to purchase.
Top Picks Summary
iLiving Shutter Exhaust Fan
Broan 506 Chain-Operated Utility Fan
MaxxAir IF14UPS 14-Inch Exhaust Fan
Broan-Nutone L300 Commercial Exhaust Fan
Genesis Exhaust Fan
NuTone Side Discharge Exhaust Fan
Bionaire Twin 8.5-Inch Exhaust Fan
Holmes Window Fan
Sunlar Eight-inch Reverse Air Exhaust Fan
Hon&Guan Six-Inch Exhaust Fan
The Best Kitchen Exhaust Fan
iLiving Shutter Exhaust Fan
The exhaust fan is ideal for removing unwanted odors, excess moisture and heat from a commercial kitchen. With a CFM of 600 and a powerful 1/25 HP motor that delivers 0.55 amp it is an excellent buy for heavy-duty cooking applications.
The motor is enclosed and comes with permanent lubrication hence does not need regular lubrication. Also, you will love the fact that it comes fully assembled so the only installation required involves electrical hardwiring.
The fan is equipped with aluminum blades known for their strength and durability. Additionally, the fan is fitted with wire guards to ensure complaince with OSHA's safety standards. Its shutters have an automatic operation so you dont have to worry about creating unncessary draft in the house.
iLiving Shutter Exhaust fan is available in eight sizes (10-36 inches) so you are sure to get the ideal size for your needs. Also, the fan is available in single-speed and variable speed models.
Pros
The blades are equipped with different settings and can be controlled automatically
Is noise-free
Suitable for other spaces too
Cons
Eats up a lot of space
Gets loud during prolonged use
Broan 506 Chain-Operated Utility Fan
Broan is a well-known producer of kitchen exhaust fans and the 506 Chain-operated utility fan does not dissappoint. This versatile exhaust fan is ideal for people who want to avoid making too many modifications when installing the equipment.
Broan 506 simplifies the installation process thanks to its plastic housing which adjusts easily to fit any wall with a thickness of 4.5-9.5 inches. Additionally, the plastic housing has a white color that blends in with any wall decor. The housing is foam insulated to enhance energy efficiency while the blades have a polymeric design for optimal performance.
Broan exhaust fan is not only designed to eliminate cooking odors but also humidity keeping your kitchen space fresh. It uses a pull-chain system that opens the door and activates the operation spinning at 430 CFM.
Pros
Adjustable housing to fit walls of varying thickness
Polymeric fan blade to enhance performance
Its door is foam insulated increasing energy efficiency
Cons
Extremely noisy
Installation is not as easy
MaxxAir IF14UPS 14-Inch Exhaust Fan
If looking for an industrial-grade kitchen exhaust fan, the MaxxAir IF14UPS is an excellent buy. The equipment is not only designed to keep kitchen spaces fresh but also garages, barns, and greehouses. The device is also suitable for removing different substances including fumes, harmful chemicals.
The fan has a heavy-duty housing construction characterized by galvanized steel which is rust-resistant. The housing comes with pre-drilled holes for easy installation. You will also love its rolled flange edges that also make the installation process hassle-free.
MaxxAir IF 14UPS exhaust fan is also equipped with two OSHA-compliant features including a fully enclosed, PSC energy-efficient motor and a safety grille. Its closely tight shutters help prevent drafts when the fan is inactive. It also removes excess moisture, unwanted odors and contaminants.
Pros
OSHA-complaint safety features
Is rust-resistant
Easy to install
Cons
Is not equipped with electrical plugs
Its louvers are unsealed around the edges
Broan-Nutone L300 Commercial Exhaust Fan
Broan has been a reliable brand for making a wide range of bathroom and kitchen products, and air circulation systems for commercial kitchens. The L300 is specifically designed for commercial kitchens and is exceptionally noise-free.
Its diameter measures eight inches and is designed to allow vertical and horizontal discharge. This capability enables it to suck out steam and more humid air than the standard exhaust fan.
Also, the Broan commercial exhaust fan is nearly noiseless thanks to its 2.9 sones rating. Its low RPM motor comes lubricated to prevent damage as a result of overheating or friction. Additionally, the exhaust fan is constructed using heavy-duty galvanized steel which enhances durability and is rust-free.
Pros
Vertical and horizontal discharge
Durable construction
Great for ventilation vast spaces
Cons
Can only be used in large rooms; it will be uneconomical to install it is small spaces
Genesis Exhaust Fan
This equipment provides good value for your money. Its dual fan system operate seamlessly to provide adequate ventilation to your working space. The device has three speed settings that allow users to fine-tune the device to a suitable comfort level.
Additionally, it uses a max cool technology that ensure the device maintains steady temperature. You can monitor is performance via the LED lights. Also it has two independent copper motor with a rugged and sturdy construction. Its expandable side panels fit most surfaces and can be pulled 6.5 inches on both sides and locked into place.
Pros
Equipped with max cool technological setting
Equipped with a three-speed setting
The thermostate is adjustable
Cons
It is noisy
You need to replace the fuse after some time
NuTone Side Discharge Exhaust Fan
It makes an excellent addition to any kitchen space thanks to its versatility. The fan removes humidity, steam, allergens, heat and steam leaving a fresh and clean kitchen space. What's more, the equipment is UL listed as safe for use in kitchen spaces that also have steam and stovetops.
Its specially designed blade is rust-resistant, provides a perfect balance of air and does not get distorted even after prolonged use. Also, you will love the fact that the fan comes with adjustable mounting brackets that measure 14-24 inches hence easy to fit between walls and ceilings.
Additionally, its motor features a simple twist lock feature that makes the installation process easy. The fan produces 160 CFM, suitable for ventilating medium-spaced rooms.
Pros
Easy to install
Durable construction
Delivers reliable ventilation
Cons
Bionaire Twin 8.5-Inch Exhaust Fan
This exhaust fan is perfect for kitchen windows with a width of 24-37 inches. It delivers a powerful airflow thanks to its high-performance and water-resistant motors. The fan is equipped with an LED thermostat that enables users to set the desired temperature within a range of 60-80 degrees.
Being a double window fan, it draws in fresh air outside and removes the hot stale air simultaneously. Users can also fine-tune the fan independently to remove the stale air or draw fresh air.
Additionally, it has a programmable thermostat for operating the device automatically to the set temperature. The unit is equipped with three speed settings: high, medium and low to help you achieve the most comfortable air flow.
You can also change the direction of the blades thanks to its reversible airflow control setting. As such, you can fine-tune the device to remove hot stale air or allow fresh air to circulate into the space.
Pros
The motors are water-resistant
Programmable LED thermostat
Reversible airflow
Cons
The remote control is sold separately
Holmes Window Fan
If lookin for an energy-efficient exhaust fan, Holmes Window fan is an excellent buy. The exhaust fan uses 60% less energy compared to other devices. It is designed to fit double hung and slider windows thus suitable for large spaces of up to 500 square feet. It is also ideal for vast kitchen spaces, laundry rooms, bathrooms and garages that need ventilation.
The equipment is equipped with extender panels for customization and has a manually reversible feature you can use to regulate airflow. What's more,its motors are water-resistant so you don't have to worry about its efficiency during rainy weather.
Holmes Window fan also has an expandable screen hence can be installed in windows with different sizes. Additionally, Its slider sage extender provides ample support even when installed vertically.
Pros
Dual -blade operation
Extender screen can be adjusted
Has two speed settings
Cons
It is difficult to operate the manual reversible setting
Sunlar Eight-inch Reverse Air Exhaust Fan
This eight-inch exhaust fan is an excellent addition to modern kitchen spaces. First, its neutral shade blends in well with a range of kitchen decors. Secondly, it has a variable speed shutter that runs at 110V so you can adjust the speed to your liking.
It comes with a US plug already installed which eliminates the need to fit additional wiring. Additionally, its motor delivers 300 CFM with a thermal cut off to prevent damage caused by overheating providing a smooth and seamless performance. Also, the fan uses a two-way coordinated ventilation operation.
When you pull the rope the fan expels stale air from the space. A second pull reverses the fan to allow fresh air in. Another pull causes the fan to stop operating closing the shutter. The fan also has an improved blade design that allow strong flow of air with minimal noise.
Pros
Upgraded blade design
Simple and reversible cord operation
Minimal noise
Cons
Not ideal for cooling vast spaces
Hon&Guan Six-Inch Exhaust Fan
The fan is waterproof-certified with IP34 certification. It is also dust and moisture proof hence ideal for wet climates. The fan uses copper motors that are energy efficient and are fitted with an overheat protection.
Its outer construction boasts a sturdy ABS construction which is UV-protected and is easy to clean and maintain. The fan is also equipped with a back draft shutter for preventing insects from flying into the house.  The fan is best mounted on the ceiling but it can be paired with firm and flexible ducting for use around the house in the kitchen, garage, toilet and other rooms.
Pros
It is waterproof and dust-proof
It is eco-friendly
ABS construction
Cons
It gets noisy during operation
Things to Look at When Buying Kitchen Exhaust Fans
Placement
Consider where you want to install the fan. Commercial fans are designed for three types of installation: on the roof, on the wall and inline. Fan placement determines accessories required, the housing and installation cost. Rooftop exhaust fans, for example, need a roof curb for proper installation. Your kitchen space and fire codes also dictate fan placement.
Air Volume Flow Rate
It is measured in cubic feet per minute (CFM) and is the amount of air removed per minute of operation. The type of hood purchased determines the CFM exhaust fan can handle depending on your type of cooking and frequency of cooking.
Commercial kitchens where open flame cooking is common require exhaust fans with a higher CFM than regular home models. The National Fire Protection Association (NFPA) and Fire Protection of Commercial Cooking Operations states that the fan should have an air velocity (measured in Linear Feet per Minute) of not be less than 152.4 m/minute.
Fans with a CFM of 50 are ideal for light duty cooking while those with a CFM of 75 are suitable for medium cooking duty. However if engaging in heavy-duty cooking look for a fan with a CFM of 100. NFPA also adds that the exhaust volumes should be of a sufficient level to allow capturing and removal of grease-laden cooking air.
Static Pressure
It is the resistance against air while traveling through a ventilation system and depends on the equilibrium when the air expelled and supplied are equal. It is also referred to as the system's friction loss and relies on the condition of the parts of the equipment.
As such, if one of the parts is faulty, the entire system is affected. Static pressure is measured using a manometer and it uses a column of water to show the level of static pressure. As the pressure increases, the column of water rises.
For ventilation purposes, it is measured in inches per a hundred feet of duct. Determining the static pressure accurately is critical to choosing an appropriate exhaust fan. Thus, exhaust fans with low CFM are likely to have poor circulation and air distribution while those with a high CFM create excess static pressure which causes air loss and energy inefficiency.
Belt Drive vs. Direct Drive Fan
This factor depends on the number of CFM you need. Kitchen exhaust fans propelled by belt drive fans use a belt and motor pulley system connected to the shaft of the motor.
Direct drive commercial fans are more efficient than belt drive fans as they have fewer moving components hence need minimal maintenance and repair.
Belt-driven fans need regular tightening, adjusting and replacement especially if they are not properly installed. Also, bearings and sheaves increase points of mechanical failure. Belt-driven exhaust fans, however present several advantages to commercial kitchen spaces as they are less expensive, produce a higher speed and are easier to control the fan speed. As such, belt-drive exhaust fans are suitable for high temperature applications.
Direct drive fans, on the other hand are more expensive, but have minimal maintenance requirements. Their motors are mounted directly on the fan axle and the power transmitted directly to the blades, letting them spin at the same speed as the rotation of the motor.
If looking for a low volume fan, say a CFM of 2000 or lower, the direct drive kitchen exhaust fan is an excellent buy. But if you need a higher CFM (higher than 2000CFM) or static pressure (more than 0.50) consider the flexibility of the belt drive fan.
Mounting Height
It refers to the distance between the burners and the filter of the range hood. For home kitchen models the standard distance between the hood and the countertop is 30-36 inches though undercabinet models are installed at a lower height. The farther a fan protrudes from the wall and the taller you are the more likely you will be affected by the unit. Install it in a place that suits your kitchen needs.
Noise
You don't want to install an extremely noisy exhaust fan. Its sone rating should help you determine the extent of noise you should expect. Fan loudness is expressed in sones and the suggested level for commercial kitchen exhaust fans is 7-21 sones.
Home models require quieter devices usually three sones which you can ramp up to 7 for demanding or intense cooking periods for a short time.
Blower Options
You can reduce the fan noise by choosing the right blower option. The blower part of the fan may be located in the body or carcass of the equipment and this is the version that creates the loudest sound.
Some fans are fitted with an inline blower that sits (halfway) in the duct run between the ceiling joists. If the duct installation is a bit complicated, adding an inline blower to the main one strengthens its power.
Thus, when buying the equipment, check if it has an external blower as it reduces noise significantly and creates a custom ventilation system. Check the location of the external blower too. You don't want to mount it too close to high-traffic areas.
The Type of Exhaust Fan
Most owners opt for the ceiling and wall-mounted exhaust fans. If you want to buy the ceiling mounted fan, it's best to look for a ducted fan but if buying the wall-mounted unit select the one that fits the wall without much modification.
A ducted ventilation system empties the dirty air outside the home. It is efficient and effective in removing smoke and humidity in commercial kitchen spaces. You want to look for ducted systems that can be converted to ductless systems. The only downside to using these fans is that they are expensive.
Your other option is the ductless ventilation system that uses filters to push dirty air through the fan and back into the kitchen. This kind is a more convenient option as it can be installed anywhere without an exterior duct. However, it is less effective in removing humidity from steamy kitchen spaces.
Another type of kitchen exhaust fan is the range hood. This kind has the hood mounted above the cooking area and is used to suck in steam, dirty air and grease releasing it outside through a duct. Other types of range hoods include:
Wall-cabinet range hood: This type is mounted to the wall above the range. Instead of having a cabinet installed over the cooking are, the hood is installed. Installations with existing cabinetry may need to remove to create space for the hood
Under- cabinet range hood: This kind is installed under the cabinet located above the stove. For adequate ventilation duct is installed behind the hood extending to the exterior wall or up through the cabinet
Ceiling or island mounted range  hood: Kitchen spaces with a range located against a wall or on an island should be paired with a ceiling or island mounted hood. Ceiling mounted hoods are suitable for professional-style cooktops as it can handle the additional output produced by cooking burners. Wall-mounted hoods, on the other hand, not only remove the dirty, greasy air but also function as a decorative feature to a space. Modern designs are made of materials like glass, copper and ceramic which blend in well with a range of kitchen design themes
Downdraft hoods: This type of ventilation system is installed inside a cooking space and remains hidden until it's time to use. It is an excellent solution for kitchen areas with limited spaces and stoves that are part of a kitchen island
Ventilator power pack hoods: This type is easy to add to existing cabinetry without consuming lots of space. It is small and continous using parts already installed in your kitchen. You may ask the contractor to customize the power pack to your kitchen setup
Motor Horsepower
It is a measure of the energy output of the exhaust fan. One horsepower is equal to 746 watts according to ISU standards. Note that the output depends on the amount of power required to spin the fan blades at the specified speed.
Exhaust fans with a higher CFM, for example need more energy efficiency thus a more powerful motor is ideal. The right exhaust fan should consist of the right combination of CFM and horsepower to ensure the ventilation system operates efficiently and minimal maintenance issues.
Size and Number of Blades
This factor largely depends on the amount of space available for installation. Single blade fans are easier to use and install but if looking for fans for heavy-duty applications then fans with double blades are ideal.