In any kitchen, smoke and odors are inevitable, especially when cooking. The lingering smells are an upsetting experience. But you can choose to install a range hood or vents in the kitchen. While hoods advents are effective, they're not convenient. See, most of these appliances are bulky and consume space in your kitchen. This is not to mention it can also be quite hard to install an exhaust fan or range vent. Enter the downdraft gas cooktop.
They are a cheaper and efficient way of battling the smoke and odor issue in your kitchen.
With a downdraft gas cooktop, you will not only save money and space, but you'll also have a better cooking experience.
What is a Downdraft Cooktop?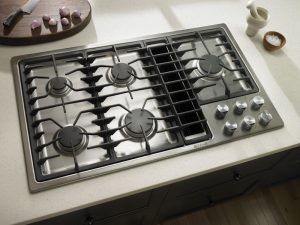 As far as cooking at home is concerned, you need to ensure both smoke and steam are kept under control. Fortunately, you can get the right cooktop with a built-in feature to control smoke. Ideally, smokes and fumes are sucked underneath the cooktop. In doing this, there is a ventilation system that is underneath your cooktop.
It does not matter whether you want a face uplift or the convenience of a cooktop, finding the right one that matches your kitchen can be a tough task.
The good thing about using a cooktop for cooking is that it offers more consistent with your meals. Moreover, it is ideal for both professional chefs and amateurs.
So, if you decide to invest in a downdraft cooktop, here are some options you can consider:
Reviews of 6 Downdraft Gas Cooktops
Frigidaire RC36DG60PS 36″ Built-in Downdraft Gas Cooktop
Bring the restaurant-grade performance right into your home by cooking your meals with the Frigidaire Built-in Downdraft gas Cooktop.
With four burners that deliver from 21,000 down to 5,000 BTUs of heat, you can prepare almost all your favorite recipes right at your home.
This cooktop has a 500 CMF power van and a great downdraft ventilator that capture odors and smoke from your kitchen down into the cooktop through an easy-to-clean stainless-steel filter.
The fan has three-speed settings that can be used to adjust the ventilator speed to suit your cooking intensity.
It features continuous Cast Iron grates for a broader cooking surface and four sealed gas burners.
This gives you a larger kitchen space and allows for easy transfer of heavy and larger pans between ports.
The sealed burners reduce the risks of open flame burns and prevent spills and splatters from falling directly into the fire.
This cooktop is among the few that come with the most precise controls. The pro-select controls make everything precise as you prepare your favorite foods.
It also has three additional features that make cleaning and maintenance easy. These include a stainless-steel dipped cooktop that can be wiped easily with a damp cloth, a dishwasher-safe filter, and three duction options.
You can choose to duct this cooktop either on the floor, through the floor, or the wall.
Nonetheless, consumers noticed that only one burner was powerful while the rest were quite weak. But this doesn't affect the cooktop's overall performance.
Get the look: Frigidaire Built-in Downdraft gas Cooktop
KitchenAid KCGD506GSS 36" 5 Burner Downdraft Stainless Steel Cooktop

Consolidate your kitchen with this very powerful cooktop from the KitchenAid manufacturers. It will pull smoke, odors, and grease soon after they find their way out of your food.
With three different speeds, each suitable for specific cooking requirements and a 300 CFM exhaust rating, you can now effectively clear your kitchen air.
KitchenAid sells a separate duct-free conversion kit for kitchens with venting installation and venting restrictions to filter the contaminated air before allowing it back.
If you have a large family, this cooktop is meant for you. It comes with five burners, each with varying power.
You can cook almost all your foods effectively at once. From the largest 17K BTU Professional burner to the small BTU Even-Heat, you can surely cook with a large pot or even smaller ones effectively.
All the five burners use electric ignition, which allows the downdraft cooktop to relight any flames that go off for whatever reason.
The continuous Cast Iron Grates also create more space for placing your larger pots and moving them from one port to another without any problem.
Get the look: KitchenAid KCGD506GSS 36" 5 Burner Downdraft Stainless Steel Cooktop
Kenmore Elite 31113 30" Gas Downdraft Cooktop

The Kenmore Elite 31113 30" cooktop has a three-speed ventilation van that will keep off-odors, smoke, and steam off your kitchen irrespective of the cooking intensity.
It comes with a powerful eighteen, 200 BTU burner that heats liquids quickly to save your time.
This cooktop is among the easiest to clean and maintain. It comes with wide dishwasher safe grates.
With its modern and recessed design, you will contain splatters and spills without compromising the cooking space.
It uses the downdraft ventilation system, but its hidden fans will ensure no stinky odors and smoke are hanging for too long in your kitchen.
A continuous Cast Iron grate and four gas burners give you greater flexibility and space on the cooktop.
Moreover, with the adjustable knobs that regulate the burners' power, you will cook almost any meal irrespective of the heat requirements.
However, Kenmore Elite 311113 30" gas cooktop is only available in select cities in the United States.
Get the look: Kenmore Elite 31113 30" Gas Downdraft Cooktop
GE Profile 30" Built-In Gas Cooktop

Unlike most gas top cooktops, the GE Profile 30" Built-in Gas has a sleek and easy finish on its surface. This surface makes it not only beautiful and modern but also very easy to clean after use.
At the center of the cooktop is a downdraft exhaust system. It draws all the smoke, odors, and steam from the surface down to a compartment where it is trapped.
This compartment is easy to clean using soap, water, and a cloth. You can adjust the ventilation fun speed depending on your cooking intensity and requirements with much ease.
The burners of this gas cooktop are sealed, giving your kitchen a modern look. It prevents the chances of any foods and other substances from falling directly into an open flame.
Along with that, sealed burners are also easy to clean and maintain.
Four infinite rotary knobs are used to control, turn, and off each of the four burners. The burners vary in size and with different power outputs.
The front-right burner has the highest power burner and is used in holding larger pots and cooking foods that require much heat.
You can use the smaller ones for cooking food in smaller pots or warm foods before serving.
When buying this burner, you don't have to worry about fitting issues. When it is finally time to replace a similar cooktop from the GE Appliances manufacturer, it's guaranteed to fit correctly. Otherwise, the GE Appliance will pay up to 100 dollars for modifications.
Get the look: GE Profile 30" Built-In Gas Downdraft Cooktop
Kitchen Aid KCGD500GSS G 30" 4 Burner Downdraft Cooktop

The Kitchen Aid KCGD500GSS cooktop comes with a 17k BTU professional burner that will suit both your high-temperature and low-temperature cooking methods. It's perfect for searing, wok cooking, and even simmering.
This cooktop integrates downdraft ventilation on the cooking surface in that a separate hood is not required.
The odors, smoke, and steam are either removed and taken outside or filtered and circulated inside.
You can also buy a duct-free kit for storing these wastes, but it is bought separately.
The ventilation fan is designed with three different speeds, which you can match precisely your cooking intensity and requirements. This ensures the effective removal of steam, odors, and smoke.
If you reside in an apartment with installation and ducting restrictions, then this gas cooktop can be your best option. Thanks to the convertible to duct-free ventilation.
This will allow you to place the downdraft cooktop almost anywhere in the kitchen with the help of the duct-free conversion kit.
For more precise melting and simmering, this cooktop is fitted with a 5K BTU EVEN-HEAT simmer burner that gives you more control over the flame, even at the lowest setting.
Full-width cast-iron grates provide an even larger space for holding wide pan and pots on top of this cooktop.
Among the few reported issues surrounding this cooktop is its powerful downdraft exhaust system that can sometimes pull down the flame itself.
This forces you to reduce the fan's speed even when the intensity of cooking is a bit high. In some cases, if not carefully handled, the finish can scratch easily.
Get the look: Kitchen Aid KCGD500GSS cooktop
GE Profile 30" Downdraft Cooktop

The GE Profile 30″ Gas Cooktops has all-purpose burners that spread the heat uniformly and rapidly to help you cook your foods efficiently. The multiple burners mean you can prepare a variety of foods quickly and at the same time.
This gas cooktop has a wide range of heat outputs, thanks to the heat level adjusting knobs. You will cook almost any food you have in mind without worrying about the heat levels and temperature requirements.
If you hate a messy gas cooktop after cooking, as most people do, this cooktop can help solve your problems. It's specially designed to contain spillovers, making the after-cook cleaning much easier.
Moreover, this gas cooktop is built with an impressively powerful exhaust system that will pull smoke and steam out of your kitchen.
For your safety against accidents and burns, the Gas cooktop has a hot surface indicator that continually lights to warn you.
Besides its excellent services during cooking and keeping out unwanted steam and smoke from your kitchen, a few consumers have experienced challenges assembling it.
To be on the safe side, you can have a certified technician install it for you while following the installation guide keenly.
Get the look: GE Profile 30" Gas Downdraft Cooktop
Best Downdraft Gas Cooktop Buying Guide
Things to Consider When Purchasing a Downdraft Gas Cooktop
When you are out searching for the best downdraft gas cooktop, there are different things you ought to consider.
Safety Features
As you deal with any given fuel source, it is vital to have the appropriate safety measures to avoid accidents. For instance, you can get gas cooktops that have automatic on/off features. Also, the construction of your cooktop has an impact on the overall safety of your product. For instance, having control panels that are placed near the burners can be childproof. In any case, you do not want your children to play with the cooktop.
Drip Pans and Trivets
It is advisable to consider cast iron trivets. That is because they are easy to clean and durable. Remember that your cooktop ought to stand up to the required levels of temperature without having to discolor or warp. That explains why many chefs prefer trivets made of cast iron.
Other than the functionality they provide, they are quite attractive. In fact, they come in handy when it comes to the cleanup process. They can catch unwanted grime and grease and can easily be wiped down.
Size
It is advisable first to take measurements of your stove to help you determine the size of cooktops you need. You will need to consider how small or big the range you need when cooking. If you like cooking a lot of things at the same time, you should opt to get a larger model with several burners. In fact, more space means cooking versatility.
BTU Power
BTU is a measurement of the amount of heat generated by the cooktop. Ideally, the BTU power is an important thing to consider when choosing a gas cooktop. Since it is the measurement of the fuel energy, the BTU range ought to be within the required specifications of the current gas line or outlet. Also, the level of BTU determines how quickly the burner heats up and how steady the flame becomes after turning it on.
Burners
You should note that burners are available in a wide range of sizes and types. Ideally, a large burner will heat up quickly. However, if you are using nonstick cookware, it may offer a lot of heat that is unnecessary. Also, wok burners are perfect for boiling liquid or stir-frying. Unfortunately, when used for making other dishes, they provide a lot of unnecessary heat. It is a good idea to find medium and simmer burners that can operate at low heat and may be adjusted to suit your cooking needs.
Controls and Dials
When cooking with gas, you have to make the right choices. For instance, you can get dials for flame height, cooking time, and heat temperature. All these controls play an important role in enhancing your cooking. It is a good idea to find controls that are quite helpful and easy to read. Looking at the dial and reading it immediately is likely to save you a lot of confusion and time.
Continuous Grates and Individual Grates
You should note that grates are designed to ensure pans and pots are raised above the flame to offer adequate space for cooking food evenly. The good thing about having continuous grates is that you can maneuver heavy pans and pots with little effort. In fact, they are easy to clean as they get lifted up as a single piece. Also, individual grates are quite convenient if you are using a single burner at a time.
Aesthetics
Most gas cooktops you will find on the market have a distinctive style. That means you can get something that matches your kitchen design. In fact, some burners and grates are designed to look simpler and sleeker, while the traditional cooktop models have an ornate finish. The truth is that the appearance of the gas cooktop in your home can make a huge statement as far as your kitchen is concerned. Therefore, there is a need to make the right decision.
Benefits of Downdraft Gas Cooktop
There are various advantages of using a downdraft gas cooktop. The following are some of the advantages you should know:
Consistent Cooking
When you have a top-quality cooktop, it means you can cook food consistently and evenly. In fact, you can manage the flame easily as compared to using electric heat. Thus, you can adjust to appropriate cooking conditions.
Easy to Maintain and Clean
You should note that gas cooktops are quite straightforward as far as cleaning them is concerned. Also, they come with their instructions.
Improves the Value of Your Kitchen
You can improve the value of your kitchen by adding a cooktop. It does not matter whether you are an amateur or professional cook, if you like cooking with gas, then you should get the right cooktop. These units have an aesthetic appeal.
Energy Efficient
In this era, you want to ensure that you are using gadgets and appliances that save energy. In fact, if you are concerned about the environment, natural gas or propane are ideal options to use rather than electricity or charcoal.
Safety Features
The truth is that gas cooktops are safer as compared to induction or electric cooktops. Also, most models you will find on the market are childproof. As a safety precaution, ensure you turn off the burners before you begin cleaning.
Features of Downdraft Cooktops
It is a good idea to know the features to look for in a downdraft cooktop. If you do not research the features, you may end up a cooktop that will not serve the intended purpose. These are some of the features to look for in a cooktop.
High BTU Power
BTU or British thermal unit is used to measure the amount of power of heat produced by an appliance. Since your cooktop will produce heat, it is vital to take BTU power into consideration. A higher BTU means that your cooktop will produce a lot of power. In this way, you can cook your favorite foods and boil water quickly. Ensure the unit you choose provides at least 10,000 BTU.
Power Source
Usually, downdraft cooktops use either electricity or gas. You can also find hybrid systems. You may have come across arguments that gas burners are better than electric burners. The truth is that both power sources have unique advantages and disadvantages. Therefore, you should determine the one to choose.
Gas burners are great as they create real flames and are efficient for heating jobs such as frying. On the other hand, electric burners do not heat up quickly and are perfect for simmering food as they produce consistent temperature.
Counter Space
You should note that downdraft cooktops are available in different shapes and sizes. It is advisable to check the shape and size of each model to ensure you have adequate space in your kitchen for it. Also, there is a need to have adequate space underneath the cooktop to aid ventilation.
Number of Burners
Ensure the minimum number of burners your downdraft gas cooktop has are four. That is because when cooking, you will use multiple pots and pans of varying sizes. If four burners are not enough, you should get a cooktop with five or six burners.
Easy Maintenance and Cleaning
What you should do is look at a downdraft gas cooktop, and you can tell whether it is easy to maintain and clean. Remember that cooking is a messy activity that may come with a lot of responsibilities. Check the design of each cooktop, hard-to-reach spots, and crevices.
Conclusion
If you want to have great experience in the kitchen, it is advisable to get the best downdraft gas cooktop. Depending on your budget, you can get one with the features you want to ensure you cook amazing meals. This guide has detailed information about the top models you can find on the market by taking into account each model's burner power, controls, size, number of burners, and construction.
No matter your preferences or available kitchen space, these downdraft gas cooktops can serve your needs. Remember that there is a need to ensure your kitchen as a proper ventilation system to maintain a safe cooking environment.