The farmers' market is a wonderful produce source year-round, but I particularly enjoy seeing all that is available there during spring and summer, when fruits and vegetables seem most varied and abundant.
Lately, the local Saturday market has been peppered with stacks of green garlic. The ubiquitousness of the purple-tinged, scallion-like stalks recently encouraged me to purchase a small bundle, despite having no clue what to do with it. The latest issue of Vegetarian Times provided some suggestions for using green garlic, but they were too vague to really spark my creativity. After a bit of brainstorming, kitchen experimentation ensued.
First up, I decided to depart a bit from my usual bread regimen to revisit the realm of biscuits and scones. Until this point, for one reason or another I had never attempted to make a savory scone and biscuit attempts have always stayed fairly neutral. Wanting to finally give it a shot, I decided to combine fresh green garlic and dill in a savory scone- or biscuit-like creation.
I'll just call them scones, because that's what I originally had it mind when making these. (I really don't know the difference between scones and biscuits and have always assumed it must have something to do with method.)
I used a blend of oat and whole wheat pastry flours and went easy on the sweetener, with the aforementioned aromatics providing the flavor. I hoped that the dill wouldn't overwhelm the mildness of the green garlic; it didn't, but it seemed like the green garlic mellowed out even more as it cooked.
So although I enjoyed the hint of dill and the appearance of green, white, and purple specks, I would have liked a more pronounced green garlic flavor rather than a barely-detectable one. Clearly, if I make these again, the formula will first require some tweaking.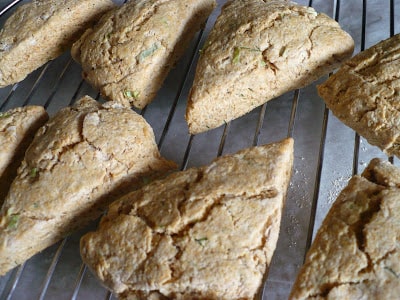 Part two of the green garlic experiment yielded more favorable results:  Whole Wheat Green Garlic Flatbread. Barring my well-known preference for yeast-leavened bread, I think the relative simplicity of the flatbread formula just worked better than the completely improvised and slightly more complicated scone formula. Although the finished product still featured a mild green garlic flavor, it was pleasant nonetheless.
And really, you can't go wrong with flatbread. What is particularly nice is that this bread's mild hint of garlic makes it perfectly tasty unadorned, but the flavor is not too overpowering to pair nicely with a spread or entree.
In any case, the texture is great: soft and chewy, with a crisp edge here and there. I may try toasting some in the oven to make flatbread chips, or making wraps from them…if I don't just eat the remaining as-is. Here's how I made them, for those of you perhaps interested in giving the recipe a try.
Just keep in mind that if you really want more of a garlicky flavor, the amount of green garlic given below isn't going to provide it, so either increase the amount of green garlic or just use regular garlic instead.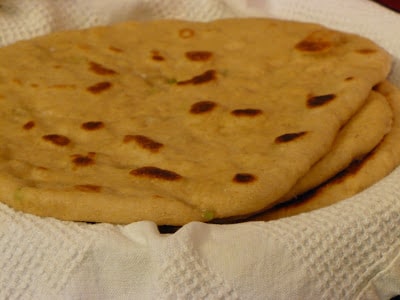 Green Garlic Flatbread
Ingredients
Makes 8 pieces
1/2 c water, just warm to the touch
2 tsp brown sugar
1 1/2 tsp active dry yeast
1 c unsweetened soy yogurt, at room temperature
1 c unbleached bread flour
2 1/4 c whole wheat flour
1 1/2 tsp salt
2 T green garlic, minced (can substitute regular garlic)
1 T vegan butter, melted, or oil (optional)
Directions
In a large bowl, combine the water and brown sugar. Sprinkle in the yeast, and let it sit for five to 10 minutes to proof (discard and start over if the yeast doesn't begin to foam). Thoroughly mix in the soy yogurt. Add the bread flour, 1 cup of the whole wheat flour, and salt, stirring well until combined. Stir in the remaining whole wheat flour, 1/2 cup at a time, kneading it in with your hands when the dough becomes too thick to stir with a spoon. Knead the dough on a lightly floured surface for another five minutes until it is fairly smooth, adding more whole wheat flour if the dough is still sticky. Form the dough into a ball and place in a lightly oiled bowl. Cover and let it rise at room temperature for approximately an hour, or until the dough has nearly doubled.
Gently degas the dough and knead in the green garlic until it is well distributed. Divide the dough into eight equal portions, form each into a ball, then cover and let them rest for 20 minutes. The dough will rise slightly.
Heat a nonstick skillet or griddle over a medium flame. On a lightly floured surface, roll each dough ball into a thin (between 1/8″ to 1/4″ thick) round or oblong disc. When the griddle is hot, turn the flame down to medium-low, place one of the dough rounds over it and cook it until the top begins to form bubbles and the bottom is barely beginning to brown. This should take two to three minutes. Lightly brush the uncooked (top) side with melted vegan butter or oil, if using, then flip and cook until the underside is brown, about another two to three minutes. Brush the top with butter, flip the bread for the last time, and cook until the underside is brown. Brush the top with more butter, if desired, and remove to a cloth-lined plate or basket. Repeat the process with the remaining dough. Serve warm.
You may also like: Apple Cider Pancakes, Apple Peanut Butter Pancakes
As with most bread, leftovers can be frozen. To reheat, I either wrap pieces in foil and warm them in the oven heated to 350 degrees Fahrenheit for 10 minutes or so, or carefully heat them on the stove directly over a low flame. Of course, you could reheat the bread in a pan on the stove instead, or even just pop a piece in the toaster. Whatever method you choose, enjoy!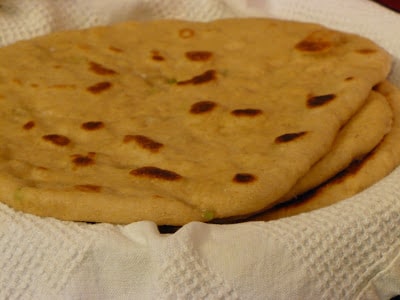 Casey is just a regular gal who loves to cook…ESPECIALLY for family and friends.. She loves mixing different tastes together with some amazing results.