Pancakes, in my humble opinion, are an any-time-of-day food. If there is absolutely nothing wrong with eating a maple syrup-drenched short stack at the crack of noon on a lazy weekend, why should lunch or dinner during the week be any different? Pancakes are not only quick and easy to whip up, but versatile, too; one can stack, stuff, or top them with almost anything to make them taste delcious. While I love "traditional" pancakes–in their vegan form, of course–it's fun to play with a basic recipe to create something a little different. If done right, as I believe was the case with these Apple Peanut Butter Pancakes, the results can be deliciously rewarding.
The idea of combining peanut butter and apples for pancakes arose when brainstorming uses for the last remaining Jonagold apple in the fruit bowl. Due to its slight tartness, I wasn't too keen on eating it as-is. I used to enjoy eating peanut butter with sweet apples, but having moved beyond the sweetened peanut butter of my childhood in favor of natural, unsalted, unsweetened peanut butter, I couldn't really see that old snack combination working in quite the same way. But nostalgia has its way of inspiring good eats. Remembering how much I enjoyed the Peanut Butter Pancakes from 500 Vegan Recipes, I figured that combining that basic idea with the aforementioned childhood snack could be just as delicious. It certainly would sweeten things up, especially with a generous dose of maple syrup (or in this case, a decadent combination of peanut butter and maple syrup) that is pretty much essential when pancakes are involved.
These tender cakes are sweet, rich, and full of nutty, apple-y flavor. The additional peanut butter in the syrup puts them over the top, but there's nothing wrong with a little indulgence now and then, right? I initially used apple slices to place on the uncooked side of each pancake before flipping them, and although that worked fine and the slices even carmelized a bit, you can make it even easier on yourself (and also distribute the apple pieces more uniformly) by dicing the apple and mixing it into the batter instead. For a peanut butter-banana version, simple substitute apple with banana.
Apple Peanut Butter Pancakes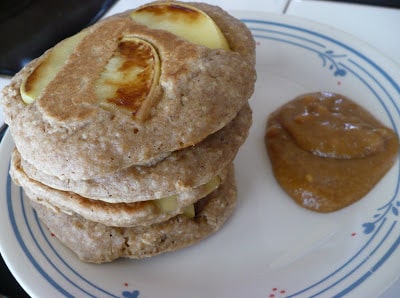 Yields 2 to 4 servings
Ingredients
3/4 c oat flour or rolled oats, finely ground
1/2 c whole wheat flour
1 1/2 tsp baking powder
1/4 tsp salt (omit if using salted peanut butter)
1/4 tsp ground cinnamon
1 1/4 c nondairy milk
1/2 tsp vanilla extract
1/4 tsp almond extract
2 T unsalted, natural peanut butter (Either smooth or crunchy is fine; I prefer crunchy.)
2 T pure maple syrup, agave nectar, or molasses (I prefer maple here.)
1 medium slightly tart apple, such as Jonagold
Directions
Core and thinly slice the apple. If desired, save a few apple slices and proceed to dice the rest, setting all of the apple aside while you prepare the batter; for completely hassle-free pancakes, just dice the entire apple.
Heat a nonstick skillet or griddle over medium-low heat. To prepare the batter, combine the oat flour or ground oats, whole wheat flour, baking powder, salt, and cinnamon in a large bowl.
In a separate bowl, whisk together the nondairy milk, vanilla and almond extracts, peanut butter, and maple syrup.
Add the milk mixture to the flour mixture and stir until just combined. If it seems too thick (more so than a typical pancake batter), slowly incorporate more nondairy milk until you achieve the desired consistency.
Fold in the diced apple, reserving the apple slices for later (if using).
When the skillet is hot, spray it lightly with oil.
Drop the batter in scant quarter-cup amounts onto the hot skillet.
If you opted to reserve some apple slices, arrange a few atop each of the pancakes.
When bubbles appear on the tops of the pancakes and the bottoms are golden brown–this normally takes a couple of minutes or so–flip the pancakes and continue to cook them until the other side is golden brown.
Remove to a plate and serve warm with Peanut Butter-Maple Syrup.
Peanut Butter-Maple Syrup
You can make this in any amount using this ratio:
Ingredients
1 part unsalted, natural peanut butter (smooth or crunchy)
2 parts pure maple syrup
pinch of salt
Directions
In a saucepan over low heat, combine all of the above ingredients until homogenous. Keep warm over low heat until ready to serve and enjoy!
I ate these pancakes for lunch one day, and they not only took me back to my childhood, but kicked that old snack favorite up a notch. If you like the fruit and peanut butter combination, you may want to give this recipe a shot and have yourself a decadent anytime snack or meal!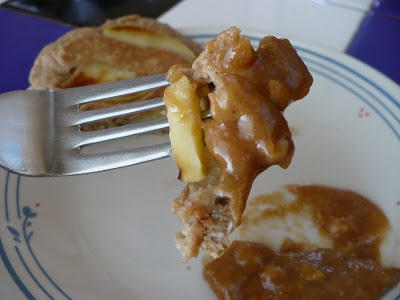 You may also like: Garlic flatbread Cheesy potato pancakes, and Japanese Kabocha bread
Emma is an avid cook, recent college graduate, a lifelong resident of California, and is also our most frequently contributing writer. She currently resides in her hometown along the central coast, where she cooks, eats, and writes about a myriad of vegan treats.