I've never been a huge fan of spiced apple cider, but seeing it absolutely everywhere lately got me curious about it (a recurring theme, as you may notice)–curious enough, in fact, to pick up a bottle of it last week to reassess my judgment. And of course, now I'm finding that I quite enjoy the stuff. It complements the smells, colors, and flavors of autumn nicely and seems like the perfect pairing for the returning cool weather.
To make it even more quintessentially autumn, I whipped up a quick and tasty batch of Spiced Cider Pancakes this morning. Inspired by the prominent ingredients in the cider–like unfiltered apple juice and an array of spices–I incorporate some of the apple cider itself into the batter and enhance the cider flavor with additional cinnamon and clove. Applesauce gives the pancakes more apple flavor while reducing the amount of fat. The sweetness of these apple cider pancakes make them delicious as-is, but they are also good with just a tiny drizzle of pure maple syrup if you like them extra sweet.
How to make Apple Cider Pancakes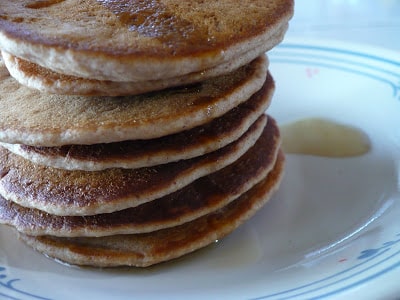 Makes approximately 15 silver dollar-sized pancakes
Ingredients
1 c flour (I used half whole wheat, half all purpose)
2 tsp baking powder
2 T brown sugar
1/2 tsp ground cinnamon
pinch of ground cloves
pinch of salt
2 T oat bran
2 T vegetable oil, or other mildly-flavored oil
3 T unsweetened applesauce
3/4 c spiced apple cider
1 tsp vanilla extract
Directions
Sift the dry ingredients (except for the oat bran) into a large bowl.
Mix in the oat bran. Combine all of the wet ingredients in a separate bowl.
Pour the wet into the dry ingredients and mix until combined.
The batter will thicken a bit as it sits; if it seems too thick, add a bit of extra cider.
Lightly spray a skillet with oil and heat it over a medium-low flame.
Drop batter into the hot skillet in 1/4 c amounts, allowing space for spreading.
Flip after bubbles form on top and the underside is golden brown (this can happen a bit quickly due to the sugar), and continue cooking the pancakes until the other side is also golden brown.
Enjoy.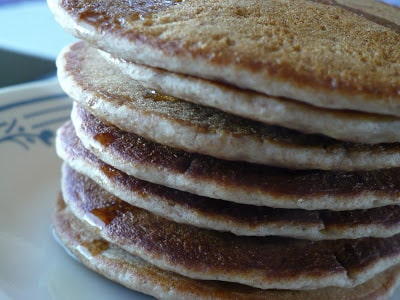 You may also like: Garlic flatbread, Cheesy potato pancakes, Japanese Kabocha bread
Casey is just a regular gal who loves to cook…ESPECIALLY for family and friends.. She loves mixing different tastes together with some amazing results.