Many people have a go-to condiment they put on practically anything edible. For example, my younger sister used to love eating foods doused with ranch dressing but now prefers to just melt cheese over everything instead. Some people swear by ketchup. I was never too fond of condiments as a child, preferring most foods unadorned, and although I have since then embraced various dips and dressings in moderate amounts, I tend not to dress every edible thing in sight with a particular topping. I do, however, really enjoy spicy food, so if I'm eating something savory that doesn't have enough heat, I find it only gets better with a dash of red pepper, a generous squeeze of sriracha, or a dose of some other hot sauce. The balance of flavor and heat is key, so as long as the amount of spice doesn't mask the flavors of the food, it's fine.
I began enjoying spicy food when a friend introduced me to Indian cuisine several years ago. I love the fragrant and flavorful combinations of spices and heat in each dish. For a period not too long ago, it seemed like I was cooking Indian-inspired food all the time, but at some point abandoned it while exploring other cuisines. With a hankering for something good n' spicy, I revisited those beloved Indian flavors for a dish I threw together using some edible odds and ends from my kitchen. What resulted was something like Chole Saag, or chickpeas with mixed greens, with a lower ratio of leafy veggies to chickpeas than one would normally find in the authentic dish. I certainly don't claim authenticity here. Cumin, coriander, turmeric, and garam masala gave the dish Indian-inspired flair, and sriracha added heat. Had I had any fresh spinach in my possession, I would definitely have included it in my leafy green mix, but I settled upon the rainbow chard and bok choy that were available instead. Chopped red bell pepper added color and texture. Full of fresh veggies, spice, and hearty beans, my dish of chickpeas, bell pepper, and greens made for a satisfying meal. I ate it with homemade whole wheat naan, which mopped up the gravy well.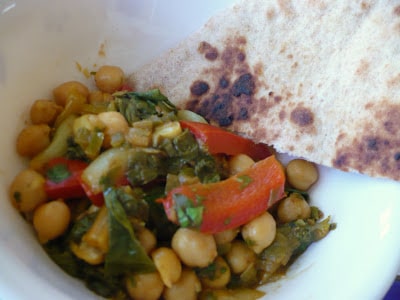 Another piece of nostalgia came in the form of Japanese curry. This was the only style of curry I had ever known as a child. Normally made from a roux available prepackaged in blocks, sometimes even boxed with a mix of vegetables already included, Japanese curry was one of that easy, quick-cooking, filling dishes that was a staple in my parents' kitchen. Those roux blocks are still quite popular these days, are found in most Asian markets, and seemingly are more common for preparing Japanese curry in the home than actually making the entire thing from scratch. However, I enjoy not only knowing that I can make something from scratch but also being able to control which ingredients make it into my food. Most of the premade curry roux available commercially that I've seen are not vegan anyway, so having my heart set on Japanese curry meant that I had to make my own box-free version anyway.
Unlike the typical, saucy beef version of the curry of my childhood, my vegan re-creation uses firm tofu and has less gravy. I actually decided to forgo the roux process in an effort to limit the fat, relying on cornstarch to thicken the dish instead and making this version a one-pot dish. But for a closer-to-authentic approach, feel free to add approximately 2 T each of oil and flour after cooking the onions (cooking as you do a normal roux), and skip the cornstarch step later on in the process. Most traditional Japanese curry with tofu use regular potatoes, but I opt for white-fleshed, Japanese sweet potatoes for a subtle flavor contrast within this mostly savory dish. I don't recall eating curry with peas, but after consulting the recipes here and here for ideas, I decided to include a small amount in this hybrid, vegan manifestation although the peas are optional.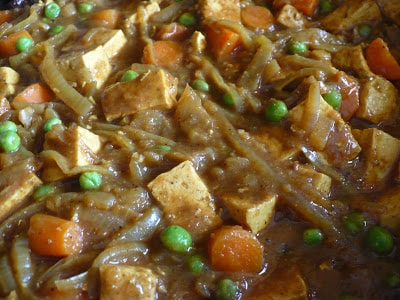 How to cook Japanese Curry with Tofu
Yields 6 to 8 servings
Ingredients
1 lb firm or extra-firm tofu, drained and cubed
2 large onions, thinly sliced
3 cloves garlic, minced
1 medium sweet apple (such as Fuji), peeled, cored, and pureed; or 1 c unsweetened applesauce
3 medium to large Japanese sweet potatoes, cut into bite-sized cubes (regular potatoes are fine)
5 carrots, peeled and cut into large chunks
1 T tomato paste
1 T vegan Worchestershire sauce, or shoyu/soy sauce
1/2 tsp sriracha (This amount adds a good amount of heat, so use less or omit for a milder result.)
2 T garam masala
2 T mild curry powder
1/2 tsp ground ginger
1 tsp ground fennel seed, or 1 star anise
1 bay leaf
3 c water
1 1/2 T cornstarch
1/2 c peas, fresh or frozen (optional)
Spray oil, or 1/2 tsp mild-flavored oil
Salt to taste
Directions
Add oil to or lightly spray oil in a large nonstick pot, and place over medium-low heat.
Mix together the garam masala, curry powder, ginger, and fennel seed, and set aside.
In a separate bowl, combine the tomato paste, Worcestershire sauce, sriracha, and apple, and set aside.
When the pot is hot, add onions and cook, stirring, until they are soft and slightly brown. (If you prefer to create a roux instead of using cornstarch as a thickener, at this point stir in the oil, then flour, and cook out the flour taste for a minute or two, then proceed.)
Stir in the garlic, then add the spice mixture, stirring and cooking for a minute or two, until the spices are fragrant; add a splash of water and stir to prevent any sticking, if necessary.
Stir in the apple mixture, then add the potatoes, carrots, bay leaf, and star anise (if using). Gently mix in the tofu.
Slowly stir in the water and bring the pot to a boil, uncovered.
In a small bowl, mix the cornstarch with 1 1/2 T water to create a smooth slurry (omit this step if using the roux method).
Stir the cornstarch slurry into the boiling liquid.
Lower the heat to medium-low and simmer uncovered, stirring frequently, until the potatoes are tender (time varies depending on the size of the pieces) and the sauce has thickened.
Add salt to taste.
Add the peas (if using) and simmer for an additional minute so that the peas are warmed through.
Serve hot alongside steamed rice.
This recipe makes a fairly large amount of curry, so feel free to freeze portions of it to have no-fuss, box-free Japanese curry anytime. I hope you enjoy it!
You may also like: Boston Roll Sushi Recipe
Emma
Emma is an avid cook, recent college graduate, a lifelong resident of California, and is also our most frequently contributing writer. She currently resides in her hometown along the central coast, where she cooks, eats, and writes about a myriad of vegan treats.