Yields 4 to 6 servings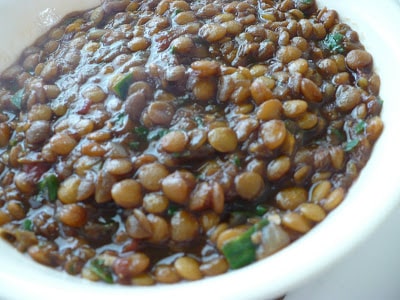 Ingredients
3/4 c brown lentils, rinsed, picked through, and drained
1/2 large onion (approx. 1 c), diced
2 cloves garlic, minced
1 small hot chili (I used jalapeno), seeded and minced
2 Roma tomatoes, chopped
2 3/4 c water, divided
1 vegetarian bouillion cube
1/4 tsp smoked paprika
1/4 tsp ground turmeric
1/2 tsp coriander seed, crushed slightly
1 tsp cumin seed, crushed slightly
1 bay leaf
2 T pomegranate molasses
2 T fresh parsley or cilantro, chopped
Salt to taste
Instructions
Heat a medium (2- or 3-qt) stock pot over medium-low flame.
When the pot is hot, add 1/4 c water, onion, chili, and garlic and cook, stirring occasionally, until the onion is soft and transparent.
Add the bouillon cube, smoked paprika, turmeric, coriander seed, cumin seed, and bay leaf, and cook for another minute to blend the spices and dissolve the bouillon cube.
Increase the flame to medium-high, stir in the tomatoes and lentils, then add the remaining water.
Bring the contents of the pot to a boil, then reduce the flame to medium-low so that the lentils simmer gently.
Simmer the lentils for 30 to 35 minutes, stirring occasionally, until they are tender and most of the liquid has evaporated; the consistency should be like that of a thick soup. Stir in the pomegranate molasses and parsley.
Add salt to taste, if desired. Serve warm.
You may also like: Japanese Tofu Curry Recipe, Kimchi Miso Soup, and Brown Rice Salad