For years, I've passively absorbed information about the various health benefits of pomegranates–antioxidant content being the stand-out contribution–and have wanted to incorporate more pomegranate juice into my diet for not only the health claims but also from my curiosity about a product to which I've has such limited exposure. The first time I actually tried pure pomegranate juice, taking a swig from the bottle offered by my then-roommate, I was surprised, and frankly, a little put-off by the overwhelming tartness of it. Although subsequent forays into the world of pomegranates have been considerably more favorable, that first experience did influence my avoidance of the pure juice for a while. If anything pomegranate managed to make it into my kitchen, it was always in some sort of blend with another fruit or tea, effectively masking the flavor of this purported wonder-fruit.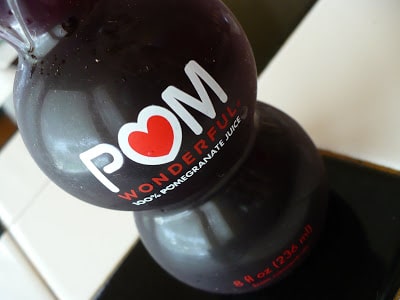 But when asked by POM Wonderful to sample some of their pomegranate juice, I decided to ignore that first pomegranate juice experience, suck it up, and give this stuff another try. I'm glad I did because "wonderful" isn't too far off in describing the taste; the tartness is there, but it is balanced by just enough natural, fruity sweetness. Straight-up, this juice goes down pleasantly.
So while I enjoy the taste of the juice in its purest form, being somewhat of a kitchen enthusiast, I made exploring pomegranate juice's culinary applications my primary goal. An array of sweet, baked goods initially came to mind, but I'm holding off on taking that route for now. Recalling the use of pomegranate molasses in various Persian dishes, I decided to start with that, as it seemed logical to begin the pomegranate experimentation by arming myself with concentrated pomegranate juice as a foundation to what might be endless edible delights. A simple Google search will produce a standard formula.
With a fresh batch of homemade pomegranate molasses in tow, I was left with the question of how to put it to good use. The legume-based Indian dishes I've been eating lately made me think of lentils–the cheap, standard, brown variety in particular. Wondering whether pomegranate molasses could act in a similar capacity to tamarind sauce by providing some underlying tangy-sweetness to a dish, I began to concoct a lentil dish vaguely inspired by the Tamarind Lentils in Veganomicon I have yet to try. I mostly borrowed the idea of using various spices and a small amount of tamarind (in my case, pomegranate molasses) to flavor the lentils.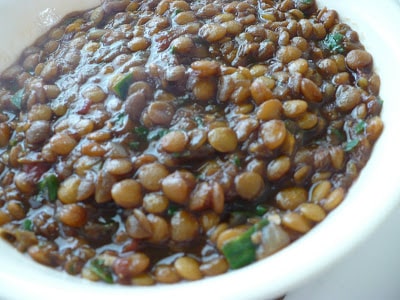 Sweet and Savory Lentils
Yields 4 to 6 servings
Ingredients
3/4 c brown lentils, rinsed, picked through, and drained
1/2 large onion (approx. 1 c), diced
2 cloves garlic, minced
1 small hot chili (I used jalapeno), seeded and minced
2 Roma tomatoes, chopped
2 3/4 c water, divided
1 vegetarian bouillion cube
1/4 tsp smoked paprika
1/4 tsp ground turmeric
1/2 tsp coriander seed, crushed slightly
1 tsp cumin seed, crushed slightly
1 bay leaf
2 T pomegranate molasses
2 T fresh parsley or cilantro, chopped
Salt to taste
Instructions
Heat a medium (2- or 3-qt) stock pot over medium-low flame.
When the pot is hot, add 1/4 c water, onion, chili, and garlic and cook, stirring occasionally, until the onion is soft and transparent.
Add the bouillon cube, smoked paprika, turmeric, coriander seed, cumin seed, and bay leaf, and cook for another minute to blend the spices and dissolve the bouillon cube.
Increase the flame to medium-high, stir in the tomatoes and lentils, then add the remaining water.
Bring the contents of the pot to a boil, then reduce the flame to medium-low so that the lentils simmer gently.
Simmer the lentils for 30 to 35 minutes, stirring occasionally, until they are tender and most of the liquid has evaporated; the consistency should be like that of a thick soup. Stir in the pomegranate molasses and parsley.
Add salt to taste, if desired. Serve warm.
Not only are these lentils sweet and savory, but they're also a little spicy and tangy. The pomegranate molasses is certainly the source of sweetness, so you can adjust the amount accordingly to fit your tastes if that little touch doesn't sound too appealing. I like the presence of different taste sensations in my food, as it adds some welcome complexity to dishes. As always, the spices (the types used and amounts) in this recipe can be altered to your preference, so do give the recipe a try. I hope you enjoy the results!
You may also like: Japanese Tofu Curry Recipe, Kimchi Miso Soup, and Brown Rice Salad
Emma
Emma is an avid cook, recent college graduate, a lifelong resident of California, and is also our most frequently contributing writer. She currently resides in her hometown along the central coast, where she cooks, eats, and writes about a myriad of vegan treats.