Yields 1 serving
Gluten-free, nut-free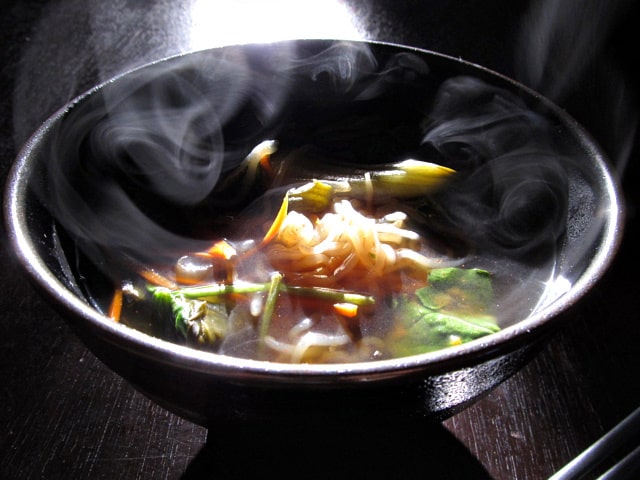 Ingredients
¼ c vegan kimchi, roughly chopped
1 ½ c vegan kombu dashi or water
½ tsp shiro miso
1 ½ c fresh spinach, washed, drained, and lightly packed
6 oz shirataki noodles, drained and rinsed
Optional: soy sauce (or tamari for gluten-free version), sriracha
Directions
Heat a small over medium-low flame.
Add the chopped kimchi and cook it for a few minutes, just until it softens. The juice with caramelize and stick a bit, so be careful to not burn it.
Pour in the dashi or water and stir to deglaze the bottom of the pot. Allow the liquid to just come to a simmer, then add the shirataki noodles. Cook the noodles for one minute.
Scoop up a bit of the hot liquid to make a loose, smooth paste with the miso (a small ladle and chopsticks work well) before stirring it into the pot.
Add the spinach, submerging it in the liquid until it wilts.
Taste for seasoning; add a drizzle of soy sauce, if necessary.
Remove the pot from heat, pour the soup into a large soup bowl, and mix in a squirt of sriracha, if desired.
Enjoy hot.
You may also like: Japanese Tofu Curry, Brown Rice Salad, and Savory Lentils