Miso soup is my go-to, anytime meal. I usually have a bowl for breakfast, but it is not uncommon for me to make a quick bowl for lunch or dinner, especially on cooler days. It's my primary reason for stocking up on dried kombu (for making dashi) and merely one reason for eating my way through ridiculous amounts of fresh spinach in any given week. To prevent burnout as well as make use of whatever items I happen to have in the refrigerator, I don't always prepare miso soup in the exact same way.
Sometimes I'll add cubed tofu; other days I'll throw in tofu shirataki noodles, cabbage, or baby bok choy; usually, I saute thinly sliced onion or mushrooms, if not both, before adding dashi (or water, in a pinch). The versatility of this dish is simply lovely. Of course, I always have a generous handful of spinach and a little bit of spice from sriracha, shichimi togarashi, or homemade serrano pepper paste.
My current favorite concoction gets a briny, spicy kick from kimchi. I've begun to develop a strong liking for the famous Korean fermented cabbage, with a particular affinity toward making my own. Unsurprisingly, it tends to find its way into at least one meal each day; it seems only natural that it would eventually coincide with my daily bowl of miso soup. Shirataki noodles are well-suited to this application because their fishy aroma cooks out and is replaced by the flavors of miso and kimchi. The noodles also add textural variation and bulk, making for a simple but hearty meal that warms both belly and soul.
How to Make Kimchi Miso Soup for One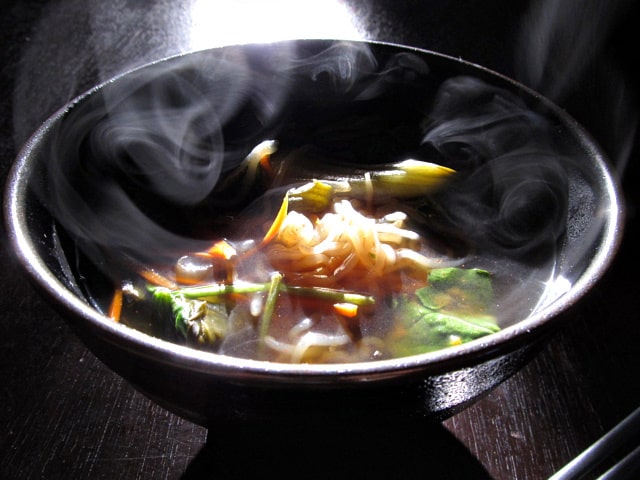 Yields 1 serving
Gluten-free, nut-free
Ingredients
¼ c vegan kimchi, roughly chopped
1 ½ c vegan kombu dashi or water
½ tsp shiro miso
1 ½ c fresh spinach, washed, drained, and lightly packed
6 oz shirataki noodles, drained and rinsed
Optional: soy sauce (or tamari for gluten-free version), sriracha
Directions
Heat a small over medium-low flame.
Add the chopped kimchi and cook it for a few minutes, just until it softens. The juice with caramelize and stick a bit, so be careful to not burn it.
Pour in the dashi or water and stir to deglaze the bottom of the pot. Allow the liquid to just come to a simmer, then add the shirataki noodles. Cook the noodles for one minute.
Scoop up a bit of the hot liquid to make a loose, smooth paste with the miso (a small ladle and chopsticks work well) before stirring it into the pot.
Add the spinach, submerging it in the liquid until it wilts.
Taste for seasoning; add a drizzle of soy sauce, if necessary.
Remove the pot from heat, pour the soup into a large soup bowl, and mix in a squirt of sriracha, if desired.
Enjoy hot.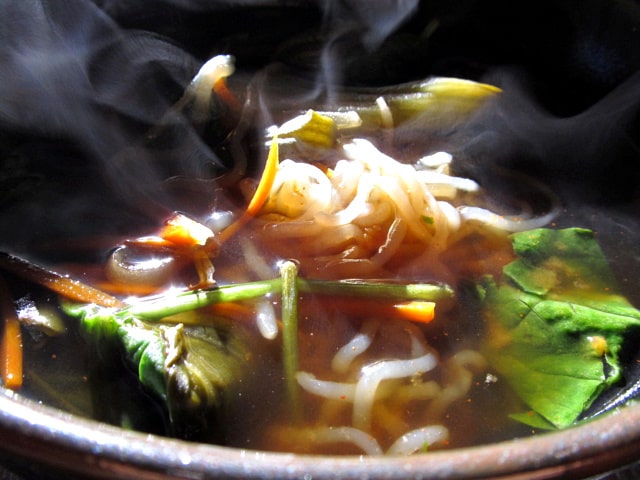 You may also like: Japanese Tofu Curry, Brown Rice Salad, and Savory Lentils
Casey
Casey is just a regular gal who loves to cook…ESPECIALLY for family and friends.. She loves mixing different tastes together with some amazing results.