Yields approximately 18 cookies
Nut-free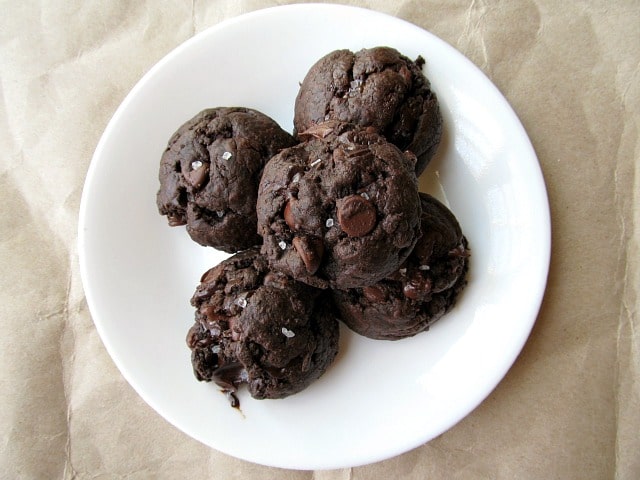 Ingredients
½ c virgin coconut oil
½ c brown sugar
1 T milled flax seed, whisked with 3 T warm water, until viscous
1 c dairy-free dark chocolate, chopped – divided (Note: I used a variety with 72% cocoa solids.)
1 tsp pure vanilla extract
½ tsp instant espresso powder
1 ½ c whole wheat pastry flour
¼ c Dutch-processed cocoa powder
1 tsp baking powder
¼ tsp sea salt
½ c dairy-free semisweet chocolate chips
Coarse sea salt for garnish, optional
Directions
Preheat the oven to 350°F/180C. Line two baking sheets with parchment or oven-proof silicone liners.
Gently melt ½ c of the semi-sweet chocolate and set aside. In a medium-sized bowl, beat the coconut oil and sugar until smooth and fluffy. Add the flax seed mixture to combine, then incorporate melted chocolate, vanilla extract, and espresso powder. Sift in the whole wheat pastry flour, cocoa powder, baking powder, and salt; mix until just combined. Stir in remaining chocolate chunks and chips until evenly distributed.
Scoop ping-pong ball-sized pieces of dough onto the lined baking sheets, spacing them approximately two inches apart. Bake for 8 minutes, then remove from the oven, sprinkle the tops of the cookies sparingly with coarse sea salt, and allow them to cool in the pan for 5 minutes. Transfer the cookies to a wire rack to continue to cool and firm up.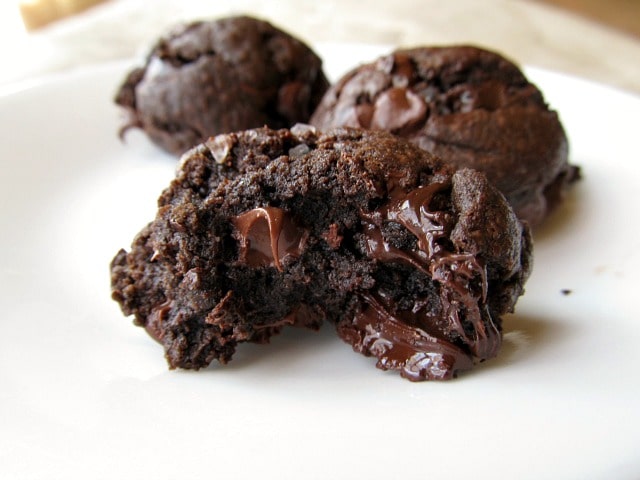 You may also like: Malasadas recipe – A bite of childhood, Apple Cider Pancakes, and Vegan Baileys Irish Cream