Yields 8 patties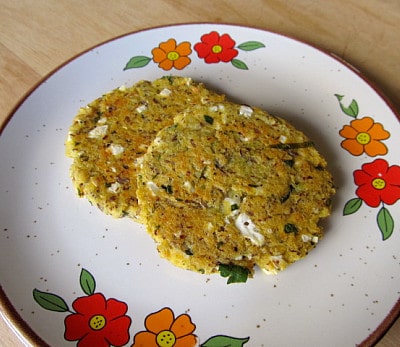 Ingredients
2 c mashed Yukon gold potatoes
1 clove garlic, minced
1 T fresh parsley, chopped
1 T green onion, chopped
½ tsp salt
¼ tsp ground black pepper
¼ tsp paprika
½ tsp lemon zest
¼ to ½ tsp sriracha
¼ c bread crumbs
2 T nutritional yeast flakes
1 flax "egg" (1 T milled flax seed combined with 3 T warm water)
¼ c mozzarella-style vegan "cheese," diced or shredded (I used Teese.)
Oil for the baking sheet or skillet
Directions
Preheat the oven to 375°F/190°C and lightly oil a baking sheet. Iif pan-frying, lightly oil a skillet and set it over medium heat.
In a large bowl, combine potatoes, garlic, parsley, green onion, salt, black pepper, paprika, lemon zest, sriracha, bread crumbs, nutritional yeast flakes, and flax "egg," mixing well to distribute the ingredients (clean hands work best). The mixture should be a bit sticky but hold together; add more bread crumbs if the mixture feels unmanageably wet. Mix in the vegan "cheese." Divide the mixture into eight pieces, patting each into a disc that is ¼"- to ½"-inch thick, 2 ½ to 3 inches in diameter.
To bake: Place patties on the prepared baking sheet, lightly oil the tops, and bake for 15 minutes. Carefully flip the patties and bake for any additional 15 minutes. The exterior should be golden-brown and firm.
To pan-fry: Cook in a lightly-oiled skillet over medium heat until each side of the patties is golden-brown.
Serve hot and enjoy!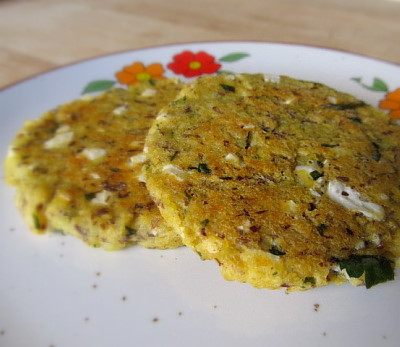 You may also like: Kabocha Bread, Brown Rice Salad, and Squash Gnocchi