There are so many delicious meals you can make with an electric skillet, from pancakes to fried chicken and even lasagna. An electric skillet is a handy kitchen appliance that makes the whole cooking process easier, speedy and efficient. In fact, with an electric skillet, you don't even need a stove. However, few electric skillets come with a lid too. It offers further convenience.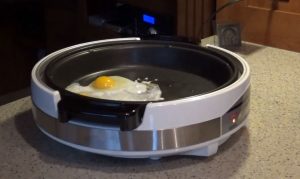 If you enjoy getting busy in the kitchen, you will want to choose an electric skillet that exactly goes with your requirements. In this case, an electric skillet with a lid is what you are looking for. So the question is which is the best electric skillet with lid? The following buying guide answers this and helps you make an informed decision. So that, the next time you invite your friends over for dinner, preparing a meal will be an easy task for you.
So, let's find out which is the perfect electric skillet with lid for you…
Here are the Best Electric Skillet With Lid You Can Buy:
Best overall: Presto 16" Electric Foldaway Skillet
Best high-end electric skillet: Zojirushi EP-RAC50 Gourmet d'Expert Electric Skillet
Best electric skillet on a budget: Elite Platinum Heavy Duty Electric Skillet
Best electric skillet for even heat distribution: Zojirushi EP-PBC10 Gourmet d'Expert Electric Skillet
Reviews of the Best Electric Skillet With Lid
Presto 06857 16" Electric Foldaway Skillet
The Presto 16" Electric Foldaway Skillet is well constructed which is made of heavy cast aluminum. The heat control has numerous temperatures marked on it, ranging from 200 °F to 400 °F. The skillet is nonstick on both the interior and exterior that prevent food from scorching and make cleaning very easy.
The pan measures roughly 16 inches x 12 inches that makes the skillet easy to make pancakes, crepes, cook chicken and even make it a skillet lasagna. The lid is made of tempered glass that fits in snugly and lets you view the progress of cooking. The handles stay cool so you don't have to use oven mitts to handle them.
When cooking, the transfer of liquids from the electric skillet to another container can be messy. The great percentage of the liquid is lost during the transferring process leaving you with a tedious clean-up task. Also, If the steam from liquid is hot, you also might be burnt. Fortunately, the pan has a built-in spout that helps with pouring off, venting so you don't have to see any mess. When you do not use it for this purpose, it can serve as a spoon rest.
We like that this electric skillet is large enough to serve a big family. With this handy tool, you don't have to cook twice because everything will fit right in. You do not have to worry about whether you are able to provide the quality and quantity expected by everyone in the party as well. The stay-cool handles make it easy to serve and check whether your meals are ready.
The pan is dishwasher safe and works great with hand wash too. It's worth noting that while the skillet itself is sturdy, the same cannot be said for the cover. It is made of tempered glass that tends to be fragile. This means you should not put it in a dishwasher.
When the skillet isn't removable from the base, storage and cleaning become tough to do. With The Presto 16" Electric Foldaway Skillet, you can easily fold the handles, detach the base and nest them in the pan. This great feature makes it a great option for those who have limited kitchen space.
The skillet comes with advanced heating control that helps maintain the desired temperature for a long period of time.Presto warns not to move the Presto Electric Foldaway Skillet if the liquid is hot, and we echo that warning.
Pros
Perfect for those large family dinners
Cooks as well as a stovetop pan
It heats evenly and quickly
Easy to store
Has a clever design
Cons
There are a dark crust formation near the burner
Zojirushi EP-RAC50 Gourmet d'Expert 1350-Watt
The Zojirushi EP-RAC50 comes with two pans to provide the flexibility to serve as a standard skillet as well as a deep inner pot.
There are two main features that set this electric skillet apart from other models.
First, it comes with two separate pans. The deep-sided pot is designed for various purposes: soups, gumbo, braised roasts, fondue, hot pots, stewing, browning, sauteing, and simmering any type of food. The flat plate has a non-stick surface of titanium-ceramic that is mainly for frying and grilling eggs, steak, bacon, seafood, making French crepes and pancakes.
Second, this model also comes with the vented steamer accessory which is great for steamed buns, vegetables and shellfish.
The cooking pans are 2.5" deep and have broad 12" cooking surfaces, which will allow you to cook various meals with ease. Some owners mentioned that with this versatile skillet they can feed a small to medium-sized family. It's easy to be swapped in and out if needed with a flat plate.
The deep dish inner pan and the flat plate are made of titanium coated material that is praised by users for being safer than the Teflon-coating cooking surface. The titanium-coating also makes clean-up such as breeze. When the cooking is done, you may clean the flat pan and the deep inner pot with warm soapy water and wipe them dry with a cotton cloth.
The Zojirushi EP-RAC50 has a tempered glass lid allows you to see how your food is cooking so you no longer have to lift the glass to see your meal-progress. This is also healthy since your food can cook with its own moisture that you will not require to add a lot of water.
One of the great features of this skillet is the stay cool handles. You can choose temperature between 176 degrees F "keep warm" or turn the heat up as high as 480 degrees Fahrenheit, which is hotter than most skillets on the market. The manufacturer offers a one-year limited warranty with this model. On the downside, the unit is bulky and the glass cover is not warranty.
Pros
High quality
Titanium-ceramic
Broad temperature range
Two cooking pans
Heats up to 480 degrees
Cons
Elite Platinum EG-6203 Non-stick Deep Dish Heavy Duty Electric Skillet with Tempered Glass Vented Lid
There are a few notable features worth mentioning about this electric skillet. First, it has an unique M-shaped heating element embedded into the bottom the whole length of the pan that ensures even and quick heat distribution.The other great feature is durable marbled nonstick coating that features a stone finish.
Like two units above, this affordable model also comes with stay cool handles that remain cool to touch, making it a perfect option for your kitchen. The unit's heat ranges from 200 degrees to 400 degrees Fahrenheit. Besides, this skillet comes with a spout so you can easily pour out the liquid after cooking. The tempered glass lid fits well and covers frying grease during frying.
Unlike most other models that come in small size, the Elite Platinum EG-6203 comes with a 8-quart size that allows you to grill or saute very generous quantities of your favorite meals. Despite its jumbo size, the unit is able to fit comfortably in a sink because of its dimensions.
The significant downside of this model is it requires a much counter space for use. One use warns to keep any kitchen tools away from the skillet during use in order to prevent them from touching the skillet and melting.
Boasting of 3.25-inche depth and a cooking surface of 13 by 16 inch, the Elite Platinum EG-6203 is ideal for bubbling soup and frying up to 10 pieces of chicken. This size is perhaps too big for two-person meals, this big guy can accommodate up to 8 people.
With Elite Platinum EG-6203, you can cook a wide variety of dishes through different methods. The deep dish inner pan is large with plenty of room to spread ingredients out for rapid heating.
This model is not entirely dishwasher safe and only the cover is dishwasher safe. This fact is really disappointing to some. However, it's recommended that washing skillets by hand for longevity. The pan has a honeycomb texture and marble coating nonstick surface. This prevents sticking of food and makes cleaning up exceptionally easy. Although the surface of the skillet is made of honeycombed non-stick, the manufacturer's manual advises that you need to season your pan before the first use.
Pros
Solid construction
Large capacity
Heats up fast
Removable thermostat control
Affordable
Cons
Not entirely dishwasher safe
Requires much space to use
Cooking smaller recipes can be tricky
Zojirushi EP-PBC10 Gourmet d'Expert
Zojirushi EP-PBC10 Electric Skillet really shines when it comes to heat control. This model is the most consistent in our review in maintaining heat and the most even heat across the pan of the skillet. It also holds heat well over time. The body of this skillet is made of titanium that tends to conduct heat well for even distribution.
When it comes to aesthetically, this model has a sleek and modern design and features the most detailed thermostat of the bunch. One great feature of this skillet is that it has a magnetic breakaway power cord that makes this model a safest option for tableside cooking.
The Zojirushi EP-PBC10 Electric Skillet comes with a tempered glass lid for monitoring the meal's progress. The unit has variable temperature settings from "keep warm" (176 degrees) to 430 degrees Fahrenheit that allows you to choose how cooked you want your meal to be. For safety reasons, the stay cool side handles are a great feature.
Overall, Zojirushi EP-PBC10 Electric Skillet can do everything you can expect from the best electric skillet. Zojirushi offers a one-year manufacturer limited warranty, in case you have any issues.
Pros
Maintained consistent and even heat levels
Low heat performance
High quality
Magnetic breakaway power cord
Steaming works perfectly
Cons
Does not have auto-shutoff feature
Cooking space is small