Vietnamese food is a delicious cuisine to add to any regular diet that you eat now. Whether you are Vietnamese yourself and want to learn recipes from other people in your culture, or you're just someone who wants to try food from a new cuisine out – a Vietnamese cookbook is exactly what you need.
Vietnamese food is known for tasting fresh and delicious. The recipes are also relatively simple to make compared to other complex recipes. Many of the ingredients in these Vietnamese cookbooks are easy to find at your local grocery store. Be prepared to buy a lot of fresh food!
Usually, the kitchen depends on balancing sour, sweet, salty as well as hot flavors, which is often achieved using various amazing spices. Unlike most cuisines, Vietnamese cuisine offers plenty of fresh, natural herbs. However, the herbs tend not to be over-spiced like chilly sauces.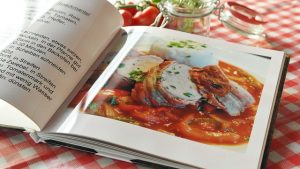 For individuals who would love to try Vietnamese cuisine without having to travel to Vietnam, we have picked for you the top 19 best Vietnamese Cookbooks you can really upon. These Vietnamese cookbooks have all been tested for their mouth-watering recipes and we're positive you'll be drawn to at least one of them, but likely all of them!
Top Picks Summary
19 Best Vietnamese Cookbooks
Into the Vietnamese Kitchen: Treasured Foodways, Modern Flavors

[CLICK ON IMAGE FOR THE PRICE]
This cookbook contains a carefully selected collection of over 175 true Vietnamese recipes. Into the Vietnamese Kitchen: Treasured Foodways, Modern Flavors is written by Andrea Nguyen. A bit of backstory into the author and creation of this book: In 1975, Nguyen's family was airlifted out of South Vietnam. The family was barely able to bring anything, but one important thing her mom packed was her little orange notebook full of traditional recipes. 30 years later, Nguyen took inspiration from her mother's little recipe notebook and created this intimate cookbook.
The recipes in this cookbook are extremely fresh and full of flavor. They're both simple and sophisticated at the same time. The book is 352 pages and hardcover. In addition to the recipes, the book also contains history about Vietnamese cuisine. Underneath the English name of each recipe, there's a Vietnamese translation. The headnotes of this cookbook are always full of useful and thoughtful tips and touches. There's also a section where Nguyen helps readers prepare all the essential and fundamental ingredients they'll need for recipes throughout this book.
This is one of the comprehensive Vietnamese cookbooks on the market. Some of the recipes included in this cookbook are Chicken Dumpling and Chrysanthemum Leaf Soup, Grilled Bananas with Coconut Sticky Rice and Lemongrass Ice Cream, Beef and Jicama Hand Rolls, and so much more. Even by the names of these three recipes, you can already tell how beautifully written and unique each of the recipes are. There are recipes for desserts, soups, poultry, noodles, fish, sauces, pork, and more!
The Pho Cookbook: Easy to Adventurous Recipes for Vietnam's Favorite Soup and Noodles
[CLICK ON IMAGE FOR THE PRICE]
Pho is one of the most famous Vietnamese noodle soup, which is often sold in the streets. The food comprises rice noodles, meat, broth, and herbs; at times, it is prepared using chicken.
The Pho Cookbook is a book by Andrea Nguyen, and it is an excellent book for both newbies and experts. The book focuses on how to prepare Pho within 45 minutes, making a great meal when you are in a hurry. You will require to dry deep-frying ginger along with green onions and toasting spices in order to extract flavor. For savory depth, you will have to poach your chicken or meat in broth.
With the Pho Cookbook, you will be able to learn and practice the Pho fundamental techniques that you can apply when preparing other dishes.
The Banh Mi Handbook: Recipes for Crazy-Delicious Vietnamese Sandwiches

[CLICK ON IMAGE FOR THE PRICE]
This incredible handbook is written by the same author as the above recipe book featured – Andrea Nguyen. If you're a sandwich lover of any kind, this book is a must-have. The recipe book features 50 mouthwatering sandwich recipes within its 132 pages. Some are classic, while others are extremely creative and modern.
If you don't know what banh mi is, it's a mixture of paté and bread. It has the texture of a crisp baguette, it's stuffed with delicious fillings, and it's topped with tangy ingredients such as pickled daikon and carrots.
Some sandwich recipes from this book include Shrimp in Caramel Sauce, Crispy Drunken Chicken, Coconut Curry Tofu and Lettuce Wrap Banh Mi. If you make any of the recipes from this handbook, you'll be bringing the best Vietnamese street food into your very own kitchen.
Vegetarian Viet Nam

[CLICK ON IMAGE FOR THE PRICE]
Vegetarian Viet Nam is a great book written by Chef Cameron Stauch, who was a cooking staff for Governor-General, who is the representative of Queen Elizabeth in Canada. If you are a vegetarian, the Vegetarian Viet Nam is the perfect book for you. This book consists of various Vietnamese vegetarian cuisines, which are light and full of amazing flavors.
The book focuses more on Vietnamese herbs as well as sauces in making mushrooms, vegetables, and tofu to burst into amazing flavors. With this cookbook, you will be able to unlock an entire world of flavors that are healthy, sustainable, and tasty.
Vietnamese Home Cooking

[CLICK ON IMAGE FOR THE PRICE]
The author of this book is award-winning chef Charles Phan. He opened his legendary restaurant called The Slanted Door in 1995. He introduced hundreds of Americans to the world of authentic Vietnamese food. One of Phan's goals is to make Vietnamese cooking as easy and understandable as any other cuisine, whether that's American, Italian or French. This cookbook focuses on the core techniques and fundamental ingredients of Vietnamese cooking. It's 256 pages long and packed full of knowledge.
Some of the recipes included in Vietnamese Home Cooking are Tender Steamed Dumplings, Meaty Lemongrass Beef Stew, and Sichuan Cucumber Pickles. The author even goes into detail about how to choose kitchen equipment. Topics discussed include choosing the perfect wok and how to season the clay pot. This cookbook has a personal touch because the author includes many of his personal stories. He talks about his experience going from being a refugee to opening up his own restaurant and releasing a successful cookbook. It's an absolute must-have for anyone who is interested in Vietnamese culture and cuisine.
Pleasures of the Vietnamese Table: Recipes and Reminiscences from Vietnam's Best Market Kitchens, Street Cafes, and Home Cooks

[CLICK ON IMAGE FOR THE PRICE]
This recipe book was written by chef Mai Pham. She knows that Vietnamese food is intriguing to so many who have never tried it before. She thought of the perfect solution for people who are interested in Vietnamese food but might never have a chance to visit Vietnam – an authentic cookbook!
Pham was born and raised in Saigon, Vietnam. Once she was an adult, she came to the United States of America. She often goes back to visit her homeland to learn even more about authentic Vietnamese cooking techniques. She visits a variety of regions gathering a diverse range of recipes. Some of these recipes include Pho, Green Mango Salad with Grilled Beef, and Stir-Fried Chicken with Lemongrass and Chilies.
As one of the great Vietnamese cookbooks, this book is packed full of culinary creations, 100 recipes to be exact. The recipes are alongside stories from Vietnam and stunning black-and-white photos of the country, showing how the people of Vietnam lived. The 242 pages of this book will make you feel like you're actually in the incredible country.
Vietnamese Street Food

[CLICK ON IMAGE FOR THE PRICE]
Vietnamese Street Food is so tasty that anyone will tell you it deserves an entire cookbook to itself. Thankfully, there is one! This paperback 208-page cookbook was written by Tracey Lister and Andreas Pohl. The street food in Vietnam is diverse, tasty, affordable, and easily available. There are so many people who travel to Vietnam purely for the food.
Making any of the recipes from this cookbook gives you an insiders-view of Vietnam. There are over 60 recipes that are loved and well-known throughout the country. The recipes range from prawn rice paper rolls to peanut-studded rice balls that students love. Each dish is followed by a stunning photograph to really bring it to life. If you love cooking and love learning about new cultures too, this is the perfect book for you. It's sure to satisfy any foodie and/or armchair traveller.
My Vietnam: Stories And Recipes

[CLICK ON IMAGE FOR THE PRICE]
At 344 pages, this is the most thorough book we've included in this list of the best Vietnamese cookbooks so far. It contains over 100 recipes from the best-selling author Luke Nguyen. He's also a cooking channel host. In My Vietnam, Nguyen returns back home to Vietnam to delve deeper into Vietnamese cooking. He starts in the North part of Vietnam, then ends in the south. He visits family and friends on his journey and also makes new friends with the locals along the way. He learns from local cooks and food experts to soak in all the information he can about Vietnamese cuisine.
Just a couple recipes out of the 100 in this book include Wok-tossed Crab in State Sauce and Tamarind Broth with Beef and Water Spinach. There is a recipe in this book for every single person, whether they are a fan of Vietnamese food or not. The book includes full-color photographs that truly capture the beauty of this country. The book does a wonderful job of capturing the people of Vietnam and how deeply connected they are to the food, which is part of what makes it one of the most popular cuisines.
Wild, Wild East: Recipes and Stories from Vietnam

[CLICK ON IMAGE FOR THE PRICE]
Wild, Wild East is similar to My Vietnam in the way that the book includes both stories and recipes from Vietnam. This 224-page hardcover book was written by chef Bobby Chin. He describes Vietnamese food as light, healthy, fresh, clean, and diverse. He combines his text and 100 delicious recipes with photographs from Jason Lowe. Lowe provides breathtaking photos of the markets, kitchens, food, and people of Vietnam.
A few of the recipes included in this cookbook are Stir-fried Noodles and Beef, Pan Roasted Salmon and Wasabi Mashed Potatoes, Braised Banana Blossoms, and Minced Prawns on Sugar Cane. In addition to main dishes and entrees, the book also features delicious desserts and fresh salads. The photos in this book go above and beyond the 100 recipes provided because there are 200 full-color photos in total to marvel at.
Quick & Easy Vietnamese: 75 Everyday Recipes

[CLICK ON IMAGE FOR THE PRICE]
This paperback recipe book was written by Nancie McDermott. There are 168 pages for 75 delicious recipes. Whether you're a beginner or intermediate cook, there are recipes in here for everyone. Quick & Easy Vietnamese does an incredible job of showing the full spectrum of Vietnamese cooking. It includes recipes of snacks, main dishes, soups, seafood, grilled meats, noodles and more.
Some of the delectable dishes included in this Vietnamese cookbook include Creamy Chicken Curry with Zesty Lime Juice, Fried Fish with a Pineapple-Chili Sauce, Shaking Beef with Purple Onion and Watercress, Sweet Coconut Ribbons for dessert, and more.
Lemongrass, Ginger and Mint Vietnamese Cookbook: Classic Vietnamese Street Food Made at Home

[CLICK ON IMAGE FOR THE PRICE]
First of all, what a beautiful name for a cookbook. Lemongrass, Ginger and Mint is known for having modern Vietnamese recipes. The 208 hardcover book was written by Linh Nguyen. She is a Fulbright scholar, blogger and writer. Originally from northern Vietnam, she went to school in New York and now lives in the coastal town of Hội An. There are traditional dishes in this cookbook and also her own special Vietnamese recipes that she's created.
Some of the recipes include Red Wine Beef Stew Pho, Rib Bun Soup, Southern Chicken Wings, Green Papaya Salad, Chicken Pho, Chicken Porridge, Classic Pho. There's a mixture of main dishes, sides, and decadent desserts. The author also includes a section about food traditions in Vietnam along with a detailed guide to all the most popular Vietnamese ingredients. With over 70 recipes, you'll be a pro in making delicious Vietnamese dishes in no time.
The Vietnamese Cookbook (Capital Lifestyles)

[CLICK ON IMAGE FOR THE PRICE]
The Vietnamese Cookbook was written by Diana My Tran. She's an incredible cook and creates many complex and rich Vietnamese dishes. Diana left Vietnam and came to the United States in 1975. With her, she brought her Vietnamese cooking skills. Diana realizes that not everyone has the time or patience to make extremely complex recipes, so she tailored all of them to something that anyone could do in their day-to-day life. The recipes are all simple and quick to make, whether you're a beginner or intermediate cook.
This cookbook has recipes for salads, meats, rice, vegetables, and seafood. She even includes a section on beverage recipes. The recipes in this cookbook are not only extremely tasty, they're great for your health too. Truly a win-win! Each simple recipe is paired with gorgeous photos of life in Vietnam by Steve Raymer. This paperback cookbook is 120 pages so it won't take up too much space in your bookshelf.
A Vietnamese Kitchen: Treasured Family Recipes

[CLICK ON IMAGE FOR THE PRICE]
This 181-page hardcover Vietnamese cookbook was written by Ha Roda. This book is a collection of her best authentic family recipes. There are many pho recipes in here along with traditional recipes such as Beef Noodle Soup and spring rolls. In addition to savory recipes, there are also decadent and unique desserts like banana coconut pudding.
Even though all the recipes in this book are Vietnamese, they were specifically created for the American kitchen. In this cookbook, Roda also includes some information about Vietnamese culture. She even includes a glossary for all of the most popular culinary terms of Vietnam. This is such a helpful resource, and she's one of the first Vietnamese authors we've seen do this.
Simply Pho
[CLICK ON IMAGE FOR THE PRICE]
As previously mentioned, Pho is one of the most common and loved Vietnamese street food, and this is another book to focuses on how to prepare Pho. Simply pho is a cookbook that was written by Helen Le. The book focuses more on how to prepare healthy homemade Pho noodle soup. As a novice or expert, you will be able to learn more about how to prepare a perfect bowl of hot Pho in countless ways.
Simply Pho features easy to follow instructions on how to prepare stunning Pho for you and your family. Furthermore, you will be able to bring aromatic scents and mouthwatering Vietnamese cuisine straight to your table.
The Little Viet Kitchen
[CLICK ON IMAGE FOR THE PRICE]
If you are looking for various Vietnamese dishes, then The Little Viet Kitchen will be the perfect book for you. This book was written by Thuy Diem Pham; she spent most of her years in Vietnam, where she learned various Vietnamese cuisines before moving to the UK.
The Little Viet Kitchen cookbook consists of 100 fresh, delicious, and authentic Vietnamese recipes. With this cookbook, you will be able to create an authentic taste of the Vietnamese dishes. The author was able to showcase the natural flavors and textures of Vietnamese organic ingredients in her book. With this book, you are assured of learning more about various Vietnamese cuisines, as well as the author's journey from Vietnam to the UK.
The Food of Vietnam
[CLICK ON IMAGE FOR THE PRICE]
The Food of Vietnam is a cookbook by Chef Luke Nguyen. In this book, you will be able to join the author as he travels from Northern to Southern Vietnam through various kitchens and market places to find some fantastic recipes that Vietnam offers.
This book focuses on various Vietnamese dishes, including Pho and banh mi. Furthermore, the book features some mouthwatering food pictures, breathtaking location, and heartwarming stories. This is one of the must-have Vietnamese cookbooks which you will treasure for years to come.
Hometown Flavors
[CLICK ON IMAGE FOR THE PRICE]
This is one of the most recommended Vietnamese cookbooks. Hometown Flavors is a book by Vi. This cookbook does not feature complicated processes making it an excellent investment for newbies. There are various easy to follow steps available in this cookbook with delicious recipes that are worth trying. The book is not only focusing on different Vietnamese cuisines but also a fantastic family story.
You will most likely get lost in both amazing Vietnamese cuisines and the author's cultural journey across Vietnam. Furthermore, with this cookbook, you will be able to learn various amazing recipes from Banh Mi to Pho along with Perilla Mojito, which is a Vietnamese cocktail.
Vietnamese Food Any Day
[CLICK ON IMAGE FOR THE PRICE]
Vietnamese Food Any Day is another cookbook written by award-winning author Andrea Nguyen. In this book, the author features decades of experiences along with cooking hacks, which her mother embraced after absconding Vietnam to the US.
In this cookbook, Andrea has illustrated how you can use readily available ingredients in creating amazing Vietnamese dishes at home. With Andrea as your tutor, you will no longer require trips to restaurants to have your favorite rice paper rolls, Banh Mi or Pho, since you will be able to prepare them from your home. Moreover, with this book, you will be able to prepare some fantastic Vietnamese dishes such as Vibrant Turmeric coconut rice as well as No-Churn Vietnamese iced coffee.
Vietnamese Food with Helen's Recipes
[CLICK ON IMAGE FOR THE PRICE]
This is another tremendous cookbook by Helen Le. The Vietnamese Food with Helen's Recipes is equipped with authentic Vietnamese home recipes. Furthermore, the book has impressive step by step photo illustrations as well as videos on YouTube for further demonstrations. The recipes featured in this book have received plenty of positive feedbacks.
There are plenty of recipes featured in this book. Additionally, this book is highly recommended for beginners since it features easy steps and video illustrations on how to prepare various Vietnamese dishes, making it ideal for learning.
Conclusion
We hope this thorough list of the best Vietnamese cookbooks got you in the mood to explore at least some of the hundreds of recipes from these Vietnamese cookbooks. Vietnamese cuisine is something that should be explored and tasted by everybody. Anyone who isn't familiar with this culture of cooking is missing out! Maybe you can show them that through some of the recipes in these works of art ( Vietnamese cookbooks). Happy Vietnamese cooking!
Want more great cookbooks? Best Indian Cookbooks